Baltimore Appliqué Society
Founded in Baltimore, MD, in 1993 to preserve antique quilts and promote the art of appliqué
Welcome to the BAS Website! The Announcements, Newsletters, Resources and Slideshows are only available to members, but please browse the rest of our site to learn about our group.
Join Us! Don't live in Baltimore, Maryland? Neither do three quarters of our membership! What do they know that you don't? Find out here
CANCELLED --- BAS ZOOM Meeting - January 20th, 2021 --- CANCELLED
After careful consideration, and with regrets, next Wednesday's January 20, 2021, Zoom meeting is cancelled.
Our Society Sampler newsletter will be postponed and published at our regular time in February, 2021.
This month's guest speakers, Polly Mello and Debby Cooney, have graciously agreed to move their presentation to our April 21, 2021, Zoom meeting.
We will look forward to see you all next month, February 17, 2021, and would love for you to continue to send in your wonderful quilt photos to us. February's Show & Tell theme is your favorite red and white quilts—old and new. Of course, we welcome other quilts which you might wish to share.
Until then, please take care, enjoy your stitching time and stay healthy.
Warmly,
Nancy K. Raley
President,
Baltimore Appliqué Society

Rose Bouquet Workshop on Zoom
We have great news! Barbara Burnham's first Rose Bouquet workshop scheduled on January Fridays, 8, 15 and 22, 2021, is full, but Barbara has graciously agreed to teach a second workshop scheduled for February Saturdays, 6, 13 and 20, 2021. Specifically, the classes will be held in three 2-hour segments, 10:00 a.m. to noon, Eastern Standard Time (EST). If you are on the wait-list for Barbara's January 2021 workshop and the February dates work for you, if you haven't signed up and you want to, or if you are signed up for January's workshop classes, but prefer to reschedule for the February workshop, you need to act now.
Please contact Barbara Buchanan, BAS workshop Registrar, via email at: hndapplique@verizon.net and let her know you wish to register. Barbara will then forward a registration form to you for completion. If you have not already paid, mail your completed form and check made out to BAS, to Pat Hanyok, BAS Treasurer. Pat's address is on the bottom of the workshop registration form. This procedure will ensure that registrations are taken on a first-come, first-served basis.
We are excited to be able to offer Barbara Burnham's Rose Bouquet workshop a second time, and we thank Barbara for sharing her talents and knowledge with us. You will need to act soon because the February class will fill quickly. Barbara is a great teacher and you won't be disappointed. A more detailed description of the class with the supply list is available on the BAS website.
As a reminder, a Zoom invite will be sent to you three days in advance. See you there!
Quaker Baltimore Album, Date 1850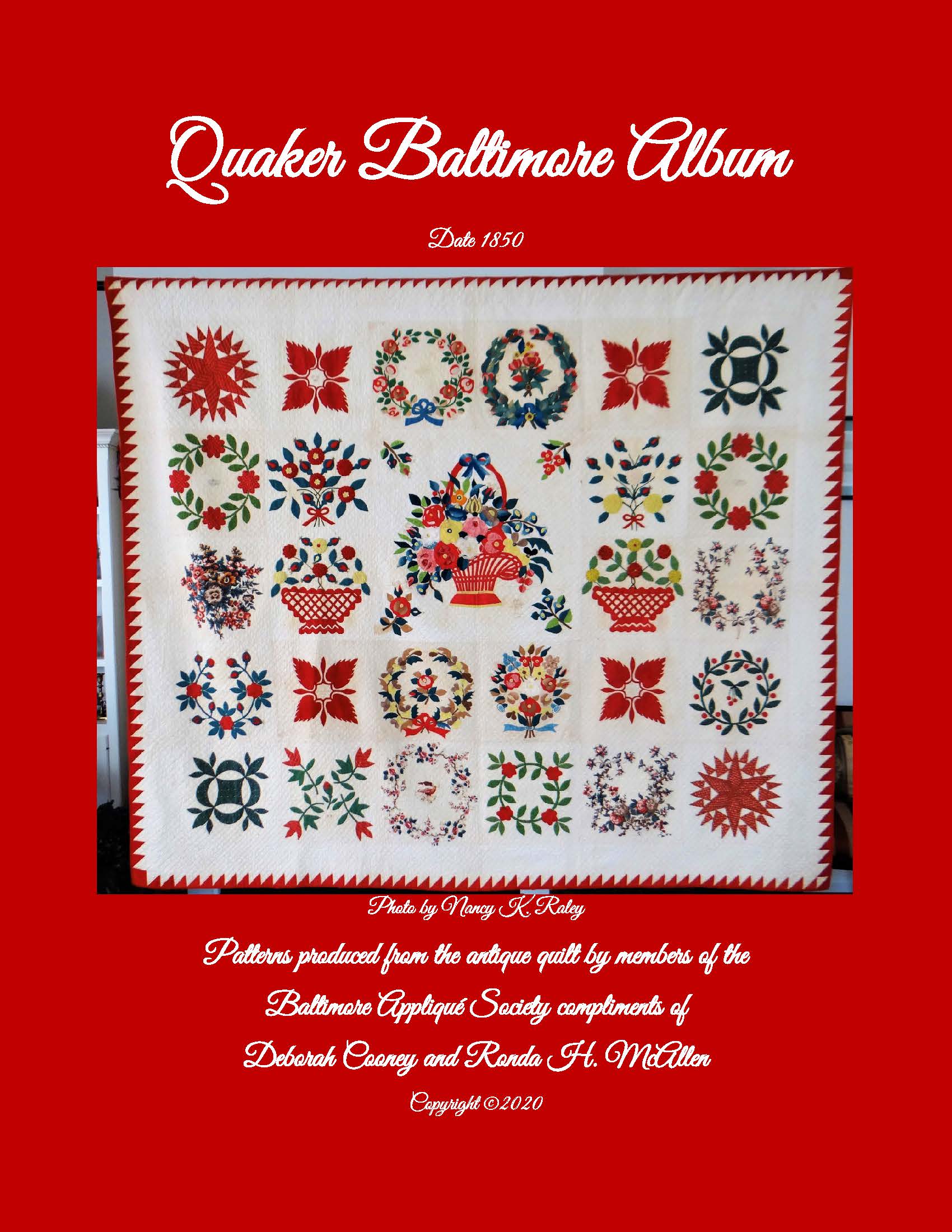 The pattern from this antique quilt was produced by members of the Baltimore Appliqué Society, compliments of Debby Cooney and Ronda H. McAllen whose research reflects that there were Quakers, who lived in Maryland and the Baltimore area from the late 17th century. Many Quaker women were dedicated quiltmakers, using silks in the somber hues of their dresses as well as colorful glazed chintz furnishing fabrics. This Baltimore Album quilt reflects names that show the Quakers participated in making some of the over 400 quilts completed between about 1844 and 1858 that are known today. The high-style blocks, ruched roses in baskets and bouquets, chintz appliqué, plus simple appliqués and piecework, are all nicely balanced to create a handsome gift or memento of friendship or kinship ties.
Quilt size 88" x 75". Legible Names on the Quaker Baltimore Album quilt are Hannah S. Atkinson, Elizabeth Herica, Louisa Morgan, Thomas Morgan, Sarah Ann Atkinson, and initials CC or GG dated 1850.
The price for the pattern is $50.00 + $12.00 shipping (MD residents will also be charged 6% state sales tax). Proceeds from the pattern sales will go to the BAS.
Baltimore Applique Society 25 Year Anniversary Block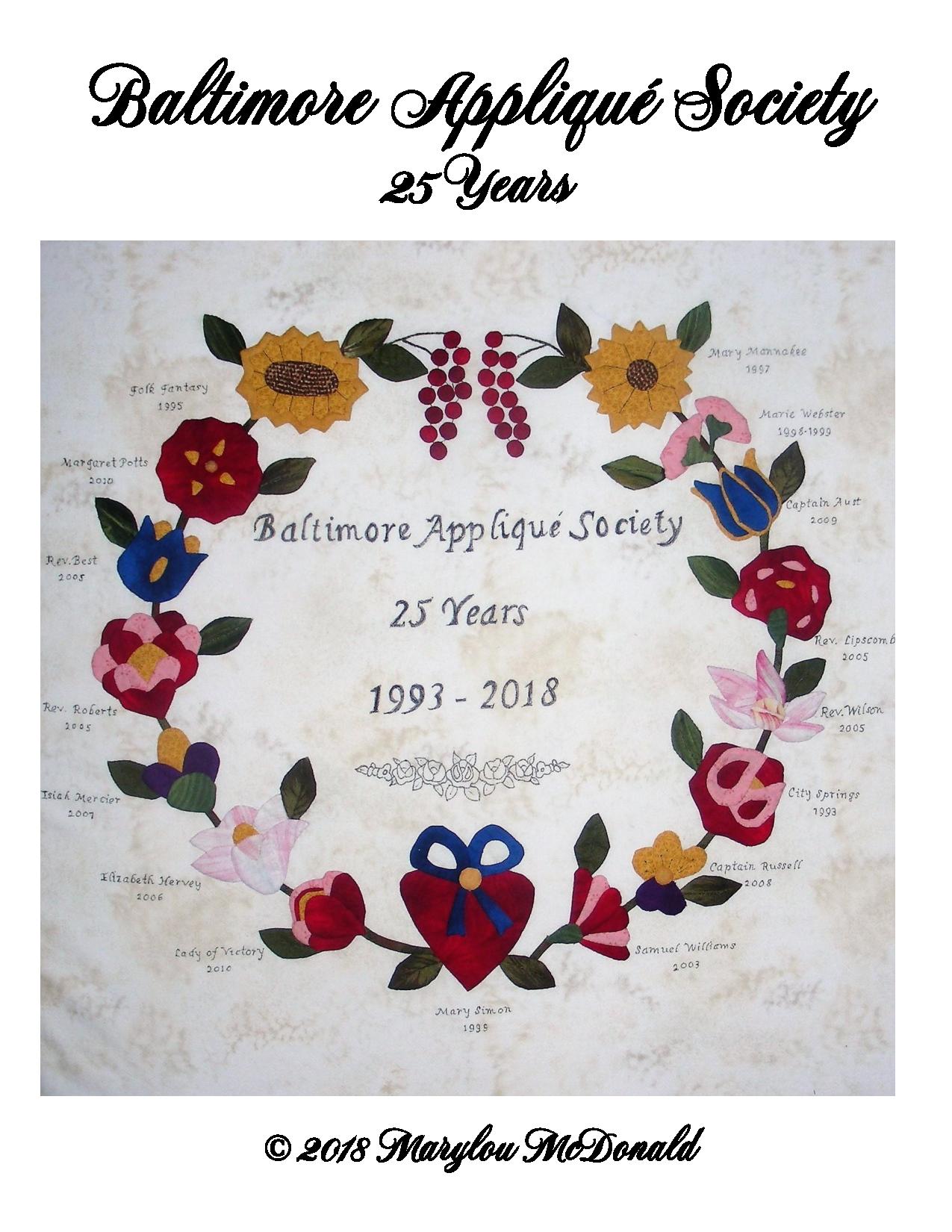 The Baltimore Appliqué Society, established in 1993, is currently celebrating its 25th year. Over the years BAS has raised money in a variety of ways, including making raffle quilts and creating patterns from museum quilts. BAS has provided financial support for organizations including the American Quilt Study Group, the Maryland Historical Society, the Marie Webster House, the Maryland State Fair, the Virginia Quilt Museum, and the Baltimore Museum of Art.
When Marylou McDonald was asked for possible ideas for a Baltimore Appliqué 25-year block pattern, she created this special pattern, "The BAS 25 Year Anniversary Block". The pattern is for a 20" x 20" block, and includes a flower from each quilt which BAS has produced. The 25 berries represent the 25 years of the BAS.
The price for the pattern is $15.00 + $1.50 shipping (MD residents will also be charged $0.90 state sales tax ). Proceeds from the pattern sales will go to the BAS.
Baltimore Applique Society 25 Year Anniversary Charm Stamp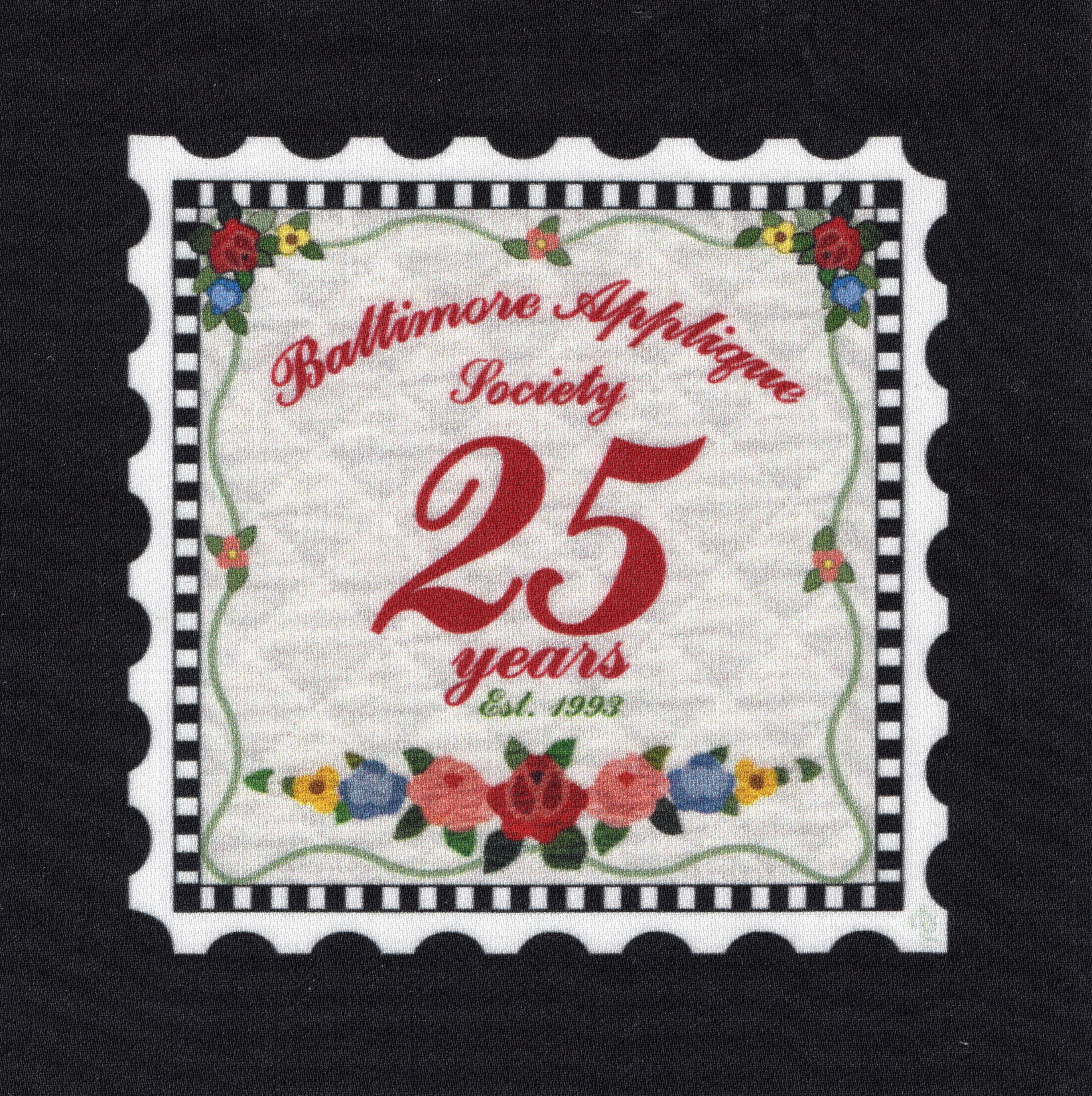 Another Charmer is the 5.5" x 5.5" Custom Charm Stamp designed by Debra Gabel of Zebra Quilts. This is a wonderful block to experiment with. One can add it to a tote bag, pillow, t-shirt, or use it as a label, frame it, or add it to a quilt. The possibilities are endless! Proceeds will go directly to BAS. (The central patterned area is 4" x 4")