Baltimore Appliqué Society
Founded in Baltimore, MD, in 1993 to preserve antique quilts and promote the art of appliqué
Welcome to the BAS Website! The Announcements, Newsletters, Resources and Slideshows are only available to members, but please browse the rest of our site to learn about our group.
Join Us! Don't live in Baltimore, Maryland? Neither do three quarters of our membership! What do they know that you don't? Find out here
Please mark your calendars!
The December BAS General Meeting will be the second Wednesday, December 11th, 2019. The January meeting will be on the fourth Wednesday, January 22nd, 2020. Both meetings will be at the usual location, the Baltimore-Washington Conference Center (BWC Mission Center) in Fulton, Maryland.
Next BAS Meeting - November 20, 2019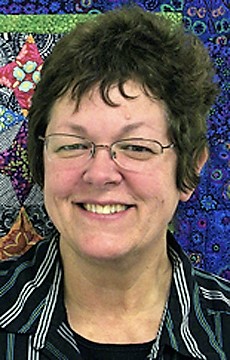 Cindy Oravecz, of Quilter's Fancy in Cortland, Ohio, will be our speaker at the November BAS General Meeting. She will present a very special program for us, "Of Fruit and Flowers—The Lost Album Blocks of Pauline Bryant and Remembering the Details That Make Baltimore Album Quilts Great." Pauline Bryant was born at the turn of the 20th century but embraced a Victorian style of living and sewing. Upon her death the Baltimore Album quilt blocks she had worked on for the last 20 years disappeared. Come see and hear the story of these remarkable blocks and how they made their way to Cindy. In Pauline's work, you will see inventiveness, advanced embroidery, lavish ink inscriptions, sophisticated use of ombre fabric, dimension, complex appliqués, romanticism and her great joy of creative sewing. By looking at one needlewoman's passion for sewing, we can see what makes Baltimore Album Quilts great. Using Pauline's blocks, Cindy will also delve back in time to the historic roots of the festoons and swags that crown many of our Baltimore Album Quilts.
In the early 1990s, Cindy was an alterations lady at a couture sewing store in Ohio. Her favorite job was emptying the wastebaskets because she collected precious bits of silk charmeuse, swiss batiste, French wire ribbon and velvets. She began to sew these treasures into her album quilts. Appliquéing diverse fabrics into her album quilts was what she has in common with stitchers of the past.
She proceeded to break sewing rules and attach everything from silk cording to the dyed cocoons of the silkworm onto fabric to form flowers. Cindy's classes and books combine her love of diverse fabrics, trims, ribbons and embellishments with dimensional appliqué and traditional embroidery techniques such as Stumpwork Embroidery and Brazilian Embroidery. She teaches how to create album and crazy quilts as well as surface techniques on quilted clothing.
Cindy will teach a workshop on "Romantic Crazy Quilt Seam Finishes" Thursday, November 21, at Spring Water Designs Quilt Shop. This is a "technique" class in which participants will work on a small crazy quilt block and learn various seam finishes and designs used in antique crazy quilts. Please click here for the registration form and the supply list for the Workshop. There are a few spaces still open, so you'll want to move quickly to ensure a spot in the workshop. If you have already signed up for the workshop, but have not received a quilt block kit, please contact Ann Corbett: ann.corbett@gmail.com. To get the most out of the workshop, you should have your crazy quilt block assembled prior to the class.
Dinner Before the General Meeting, November 20th, 5-6:00 p.m. Come meet our speaker and other members for a delicious dinner prior to our general meeting. ALL members are welcome at the nearby Ranazul Bistro, 8171 Maple Lawn Blvd., Fulton, MD. If you wish to attend, please email Marty Fry at MarthaAFry@gmail.com
Join us for BAS meetings at:

Baltimore-Washington Conference Mission Center (BWC Mission Center)
11711 East Market Place
Fulton, Maryland 20759
410 309 3400 A map to the meeting site is available under Member Resources. Please login to access it.

Guests are always welcome. The fee for guests is $5.
Baltimore Applique Society 25 Year Anniversary Block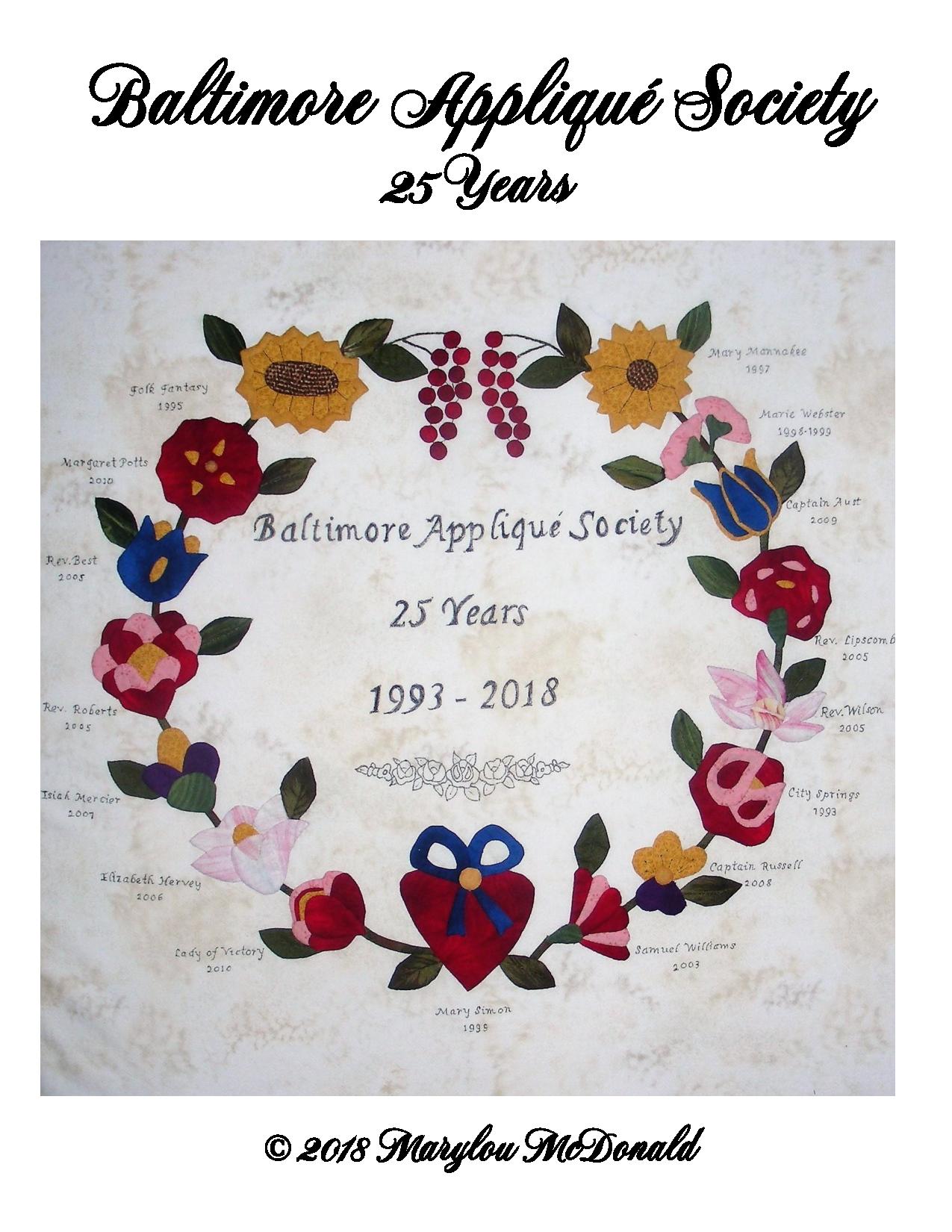 The Baltimore Appliqué Society, established in 1993, is currently celebrating its 25th year. Over the years BAS has raised money in a variety of ways, including making raffle quilts and creating patterns from museum quilts. BAS has provided financial support for organizations including the American Quilt Study Group, the Maryland Historical Society, the Marie Webster House, the Maryland State Fair, the Virginia Quilt Museum, and the Baltimore Museum of Art.
When Marylou McDonald was asked for possible ideas for a Baltimore Appliqué 25-year block pattern, she created this special pattern, "The BAS 25 Year Anniversary Block". The pattern is for a 20" x 20" block, and includes a flower from each quilt which BAS has produced. The 25 berries represent the 25 years of the BAS.
The price for the pattern is $15.00 + $1.50 shipping (MD residents will also be charged $0.90 state sales tax ). Proceeds from the pattern sales will go to the BAS.
Baltimore Applique Society 25 Year Anniversary Charm Stamp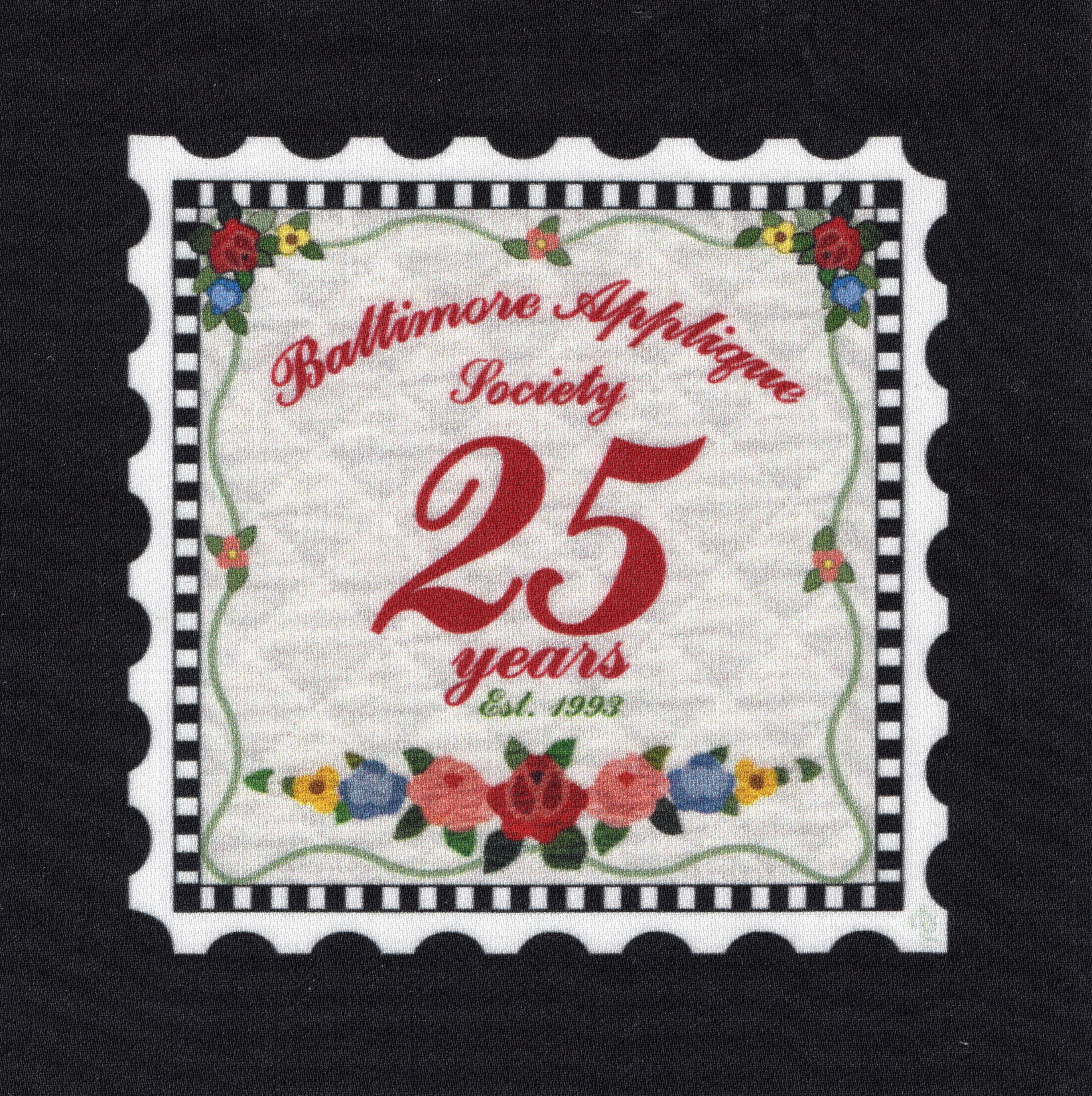 Another Charmer is the 5.5" x 5.5" Custom Charm Stamp designed by Debra Gabel of Zebra Quilts. This is a wonderful block to experiment with. One can add it to a tote bag, pillow, t-shirt, or use it as a label, frame it, or add it to a quilt. The possibilities are endless! Proceeds will go directly to BAS. (The central patterned area is 4" x 4")