Baltimore Appliqué Society
Founded in Baltimore, MD, in 1993 to preserve antique quilts and promote the art of appliqué
Welcome to the BAS Website! The Announcements, Newsletters, Resources and Slideshows are only available to members, but please browse the rest of our site to learn about our group.
Join Us! Don't live in Baltimore, Maryland? Neither do three quarters of our membership! What do they know that you don't? Find out here
May 16 Workshop: "Woodland Romance," with Gretchen Gibbons
10 a.m. – 4 p.m., May 16, 2019, at the Clarksville Fire Department Community Room
Registration is now open for this workshop on wool appliqué. In this workshop participants will make a delightful 26" square wall hanging in wool and cotton. Click here for the registration form and here for the supply list.
Next BAS Meeting - April 17, 2019, 7pm - Debby Cooney: Bird-Print Chintzes, 1790-1850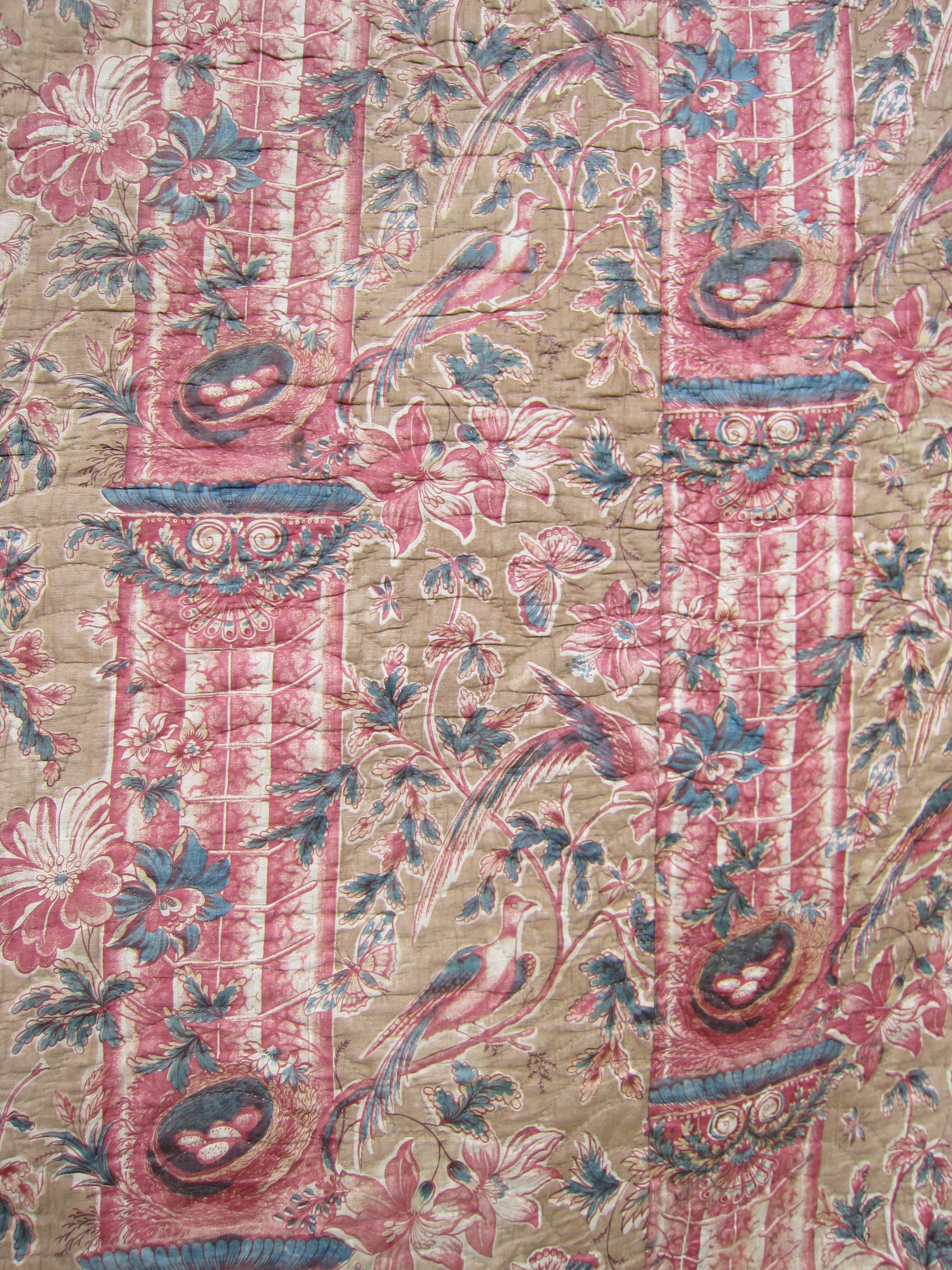 You'll want to join us at our April 17 general meeting when Debby will give a powerpoint lecture on an 18th century chintz of dramatic bird images that appear on later quilts. She will also show several early 19th century quilts with bird-print chintzes and discuss their different characteristics.
Debby is a quilt historian and collector. She has given presentations on quilt-related topics at symposia, organized several quilt exhibitions, and published a paper on Baltimore Album quilts. <
Dinner Before the General Meeting, April 17, 5-6:15 p.m.
Please come meet our speaker and other members for a delicious dinner prior to our general meeting, conveniently located at the Ranazul Bistro, 8171 Maple Lawn Blvd., Fulton, MD. If you wish to attend, you can call, text or email Kathy DeShong, at 240-462-1231 or vp@baltimoreapplique.com.
Sit and Sew
April's Sit and Sew starts at 5:30 p.m. April 17th in the Strawbridge Lunch Room at the BWC Mission Center prior to the general meeting. We will start making the favors for the BAS 25th Anniversary Celebration. Marcia Gratton has graciously volunteered to serve as chair of the BAS 25th Anniversary Planning "Favors" Subcommittee. She will demonstrate how to make the favors that the 25th Anniversary Planning Committee has selected for the celebration, and we'll start making them. It's a fun little project - a surprise that will be revealed at the Sit and Sew.
Please bring your basic sewing kit: scissors, pins and needles (embroidery and beading), and needle threader if you need one.
Project kits will be provided. They will include wool, buttons, and ribbon for closure ties. Embroidery threads to get started will also be available. You may also bring your own favorite threads. Colors can be varied.
Join us for BAS meetings at:

Baltimore-Washington Conference of the United Methodist Church
11711 East Market Place
Fulton, Maryland 20759
410 309 3400 A map to the meeting site is available under Member Resources. Please login to access it.

Guests are always welcome. The fee for guests is $5.
Baltimore Applique Society 25 Year Anniversary Block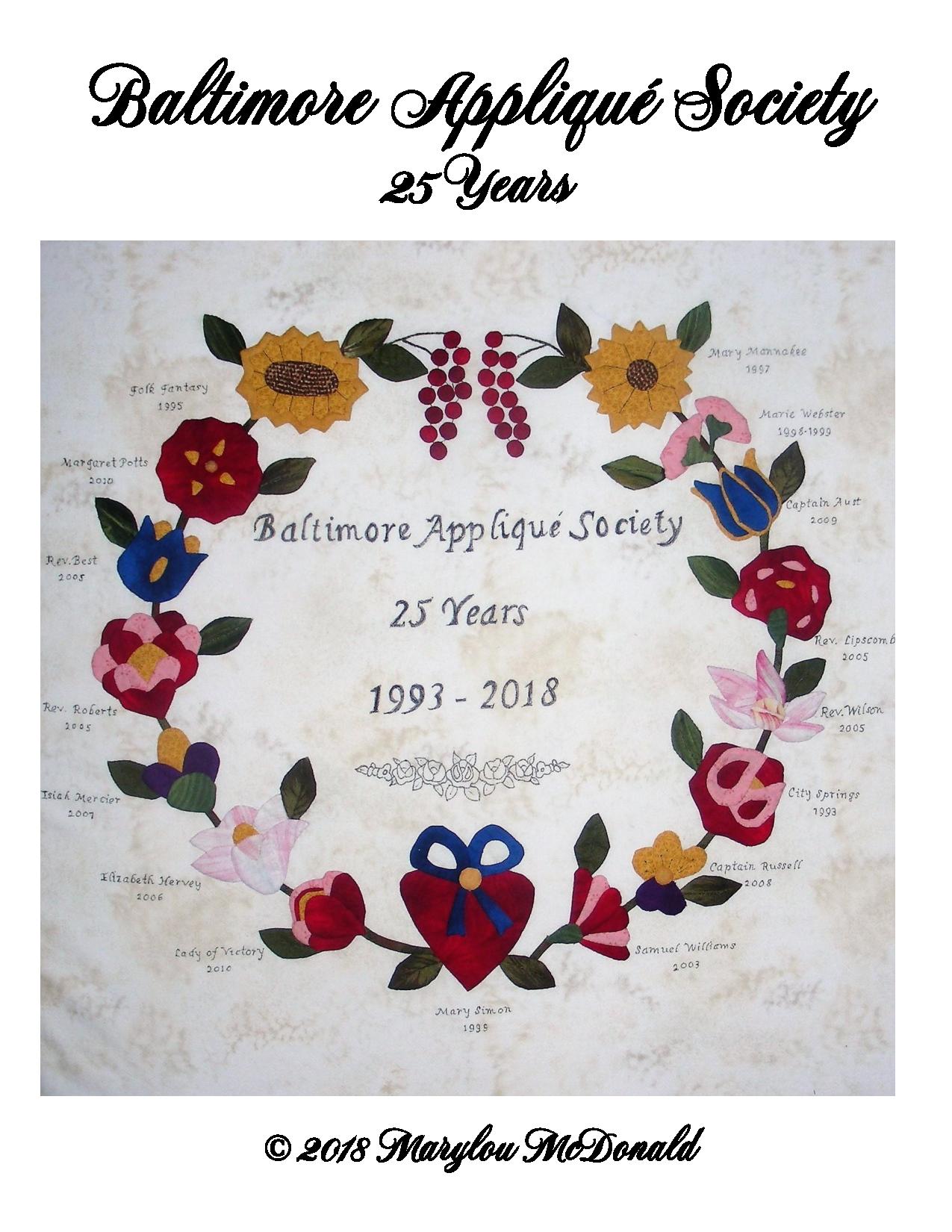 The Baltimore Appliqué Society, established in 1993, is currently celebrating its 25th year. Over the years BAS has raised money in a variety of ways, including making raffle quilts and creating patterns from museum quilts. BAS has provided financial support for organizations including the American Quilt Study Group, the Maryland Historical Society, the Marie Webster House, the Maryland State Fair, the Virginia Quilt Museum, and the Baltimore Museum of Art.
When Marylou McDonald was asked for possible ideas for a Baltimore Appliqué 25-year block pattern, she created this special pattern, "The BAS 25 Year Anniversary Block". The pattern is for a 20" x 20" block, and includes a flower from each quilt which BAS has produced. The 25 berries represent the 25 years of the BAS.
The price for the pattern is $15.00 + $1.50 shipping (MD residents will also be charged $0.90 state sales tax ). Proceeds from the pattern sales will go to the BAS.