Baltimore Appliqué Society
Founded in Baltimore, MD, in 1993 to preserve antique quilts and promote the art of appliqué
Welcome to the BAS Website! The Announcements, Newsletters, Resources and Slideshows are only available to members, but please browse the rest of our site to learn about our group.
Join Us! Don't live in Baltimore, Maryland? Neither do three quarters of our membership! What do they know that you don't? Find out here
Fieldtrip to the DAR Museum on November 4th, 2019
Join BAS to visit the DAR Special Exhibition: A Piece of Her Mind: Culture and Technology in American Quilts. Click here for the registration form.
Next BAS Meeting - September 18, 2019
IMPORTANT NOTE: The September meeting location has changed!
Our meeting place for this next Wednesday's BAS General Meeting has changed. The September 18, 2019 meeting will be held at the following location: Howard County Center for the Arts (HCCA) 8510 High Ridge Road Ellicott City, Maryland 21043
Many of you will recall this is where BAS met for many years prior to moving to our current location. Parking at HCCA is available in front and to the Northeast (right) side of the building as well as in the lower-level lot to the rear of the building.
As a result of this venue change, dinner with our speaker is also being moved to be closer to HCCA. The dinner will be held at 5 p.m. at Kelsey's Restaurant, 8480 Baltimore National Pike, Ellicott City, Maryland 20142 (in Normandy Center next to Ellicott City Sew-Vac).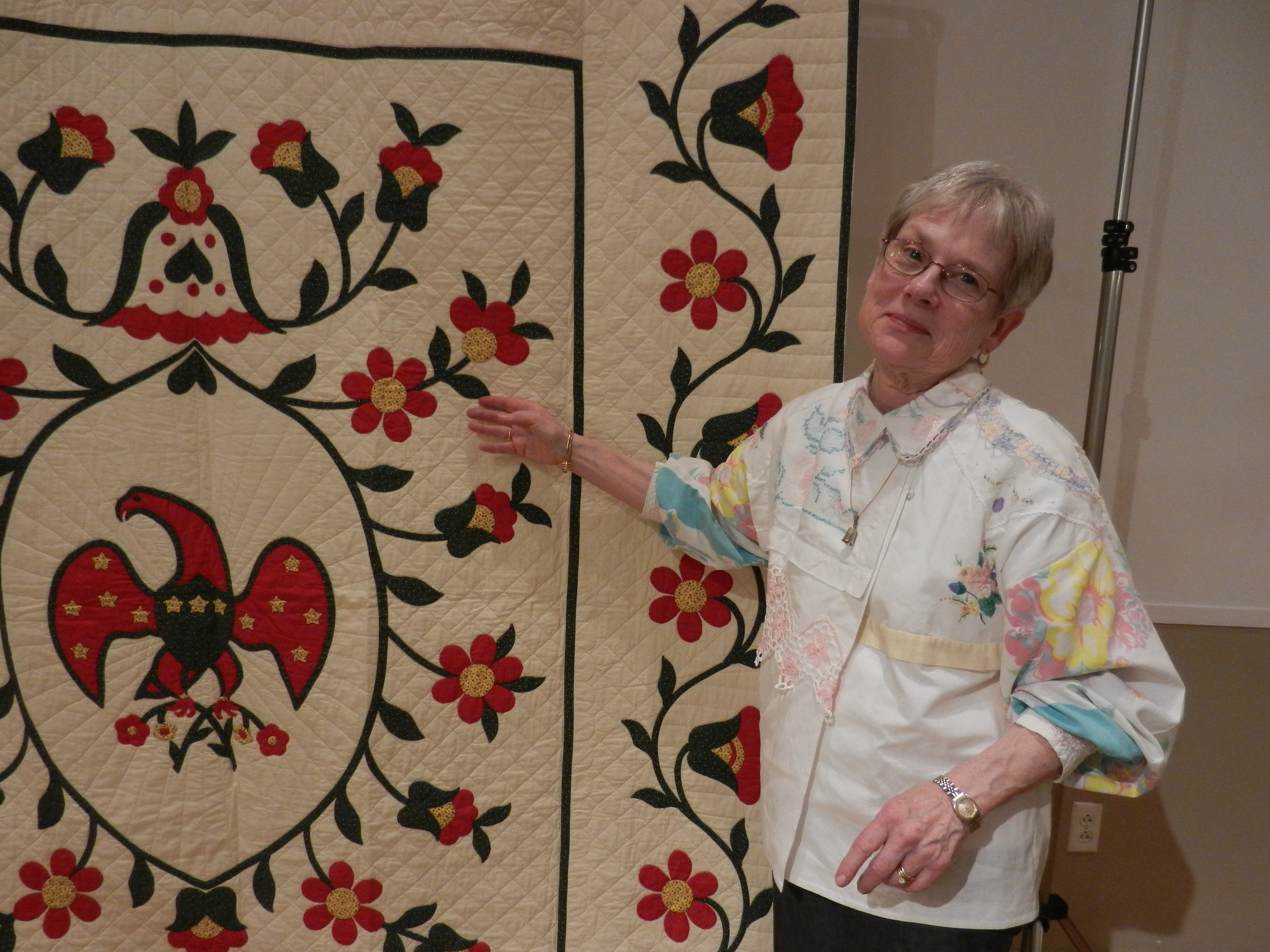 Join us as we reconnect after a hot summer. Madge Ziegler will be the speaker for our September 18 General Meeting. In her lecture, "This Old Quilt: Detecting, Inspecting, and Collecting," Madge will present a trunk show during which she leads us through her journey of building a collection to love and inspire. It is, quite clearly, a subject near and dear to her heart. "When you get old enough and people know who you are, quilts arrive on your doorstep," Madge says. "Things find me. They may not be valuable money-wise, but they're wonderful."
You'll also want to be sure to sign up for Madge's workshop the following day.
Workshop with Madge Ziegler, "This Old Quilt," Thursday, September 19, 2019, Spring Water Designs Quilt Shop, 9691 Gerwig Lane, Suite G, Columbia, MD 21046
This full day class is designed to give you an overview of quilt collecting, with emphasis on the dating, care and restoration of your quilts, tops and blocks. You may bring quilts, tops, blocks or pieces of fabric for discussion and analysis. Or come and learn from Madge's collection of "stuff." Condition is not important. We will discuss quilting old tops and blocks, dating, storage, cleaning, hanging, display and repairs. Learn about your own pieces and everything else that turns up on this fun and informative day. The morning will be spent analyzing what everyone has brought. The afternoon activities include restoration, repair and conservation techniques which will be practiced using a $10 kit (includes a piece of quilt to work on, needle, thread, tulle, handout and other goodies). Click here for the registration form and here for the supply list.
Dinner Before the General Meeting, September 18, 5-6:15 p.m. Dinner on September 18, 5 to 6:15 p.m.: Come meet our speaker and other members for a delicious dinner prior to the BAS General Meeting at Kelsey's Restaurant, 8480 Baltimore National Pike, Ellicott City, Maryland 20142 (in Normandy Center next to Ellicott City Sew-Vac). ALL members are welcome at the nearby . If you wish to attend, please text or email Martha Fry at (240) 271-8095 or MarthaAFry@gmail.com
Join us for BAS meetings at:

Baltimore-Washington Conference of the United Methodist Church
11711 East Market Place
Fulton, Maryland 20759
410 309 3400 A map to the meeting site is available under Member Resources. Please login to access it.

Guests are always welcome. The fee for guests is $5.
Baltimore Applique Society 25 Year Anniversary Block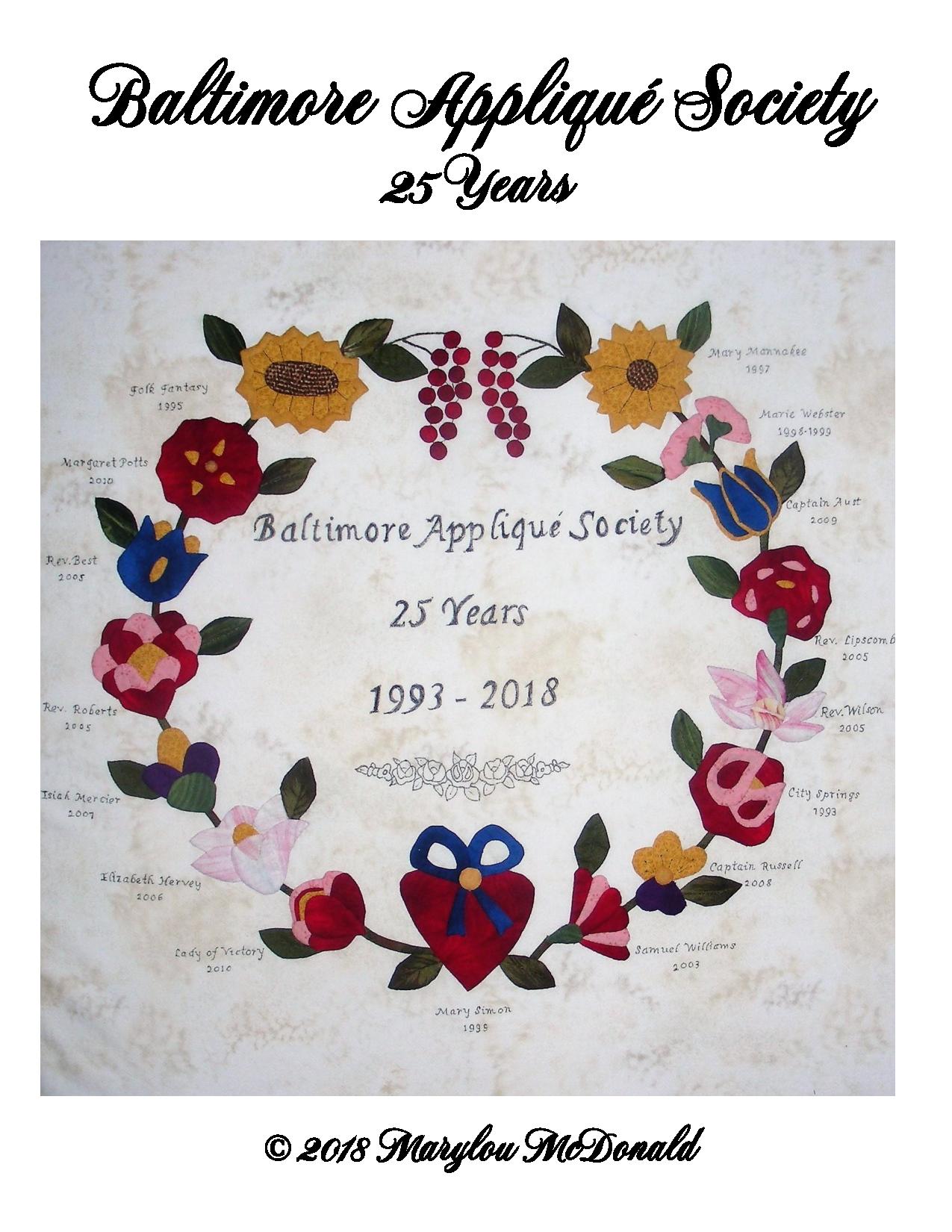 The Baltimore Appliqué Society, established in 1993, is currently celebrating its 25th year. Over the years BAS has raised money in a variety of ways, including making raffle quilts and creating patterns from museum quilts. BAS has provided financial support for organizations including the American Quilt Study Group, the Maryland Historical Society, the Marie Webster House, the Maryland State Fair, the Virginia Quilt Museum, and the Baltimore Museum of Art.
When Marylou McDonald was asked for possible ideas for a Baltimore Appliqué 25-year block pattern, she created this special pattern, "The BAS 25 Year Anniversary Block". The pattern is for a 20" x 20" block, and includes a flower from each quilt which BAS has produced. The 25 berries represent the 25 years of the BAS.
The price for the pattern is $15.00 + $1.50 shipping (MD residents will also be charged $0.90 state sales tax ). Proceeds from the pattern sales will go to the BAS.
Baltimore Applique Society 25 Year Anniversary Charm Stamp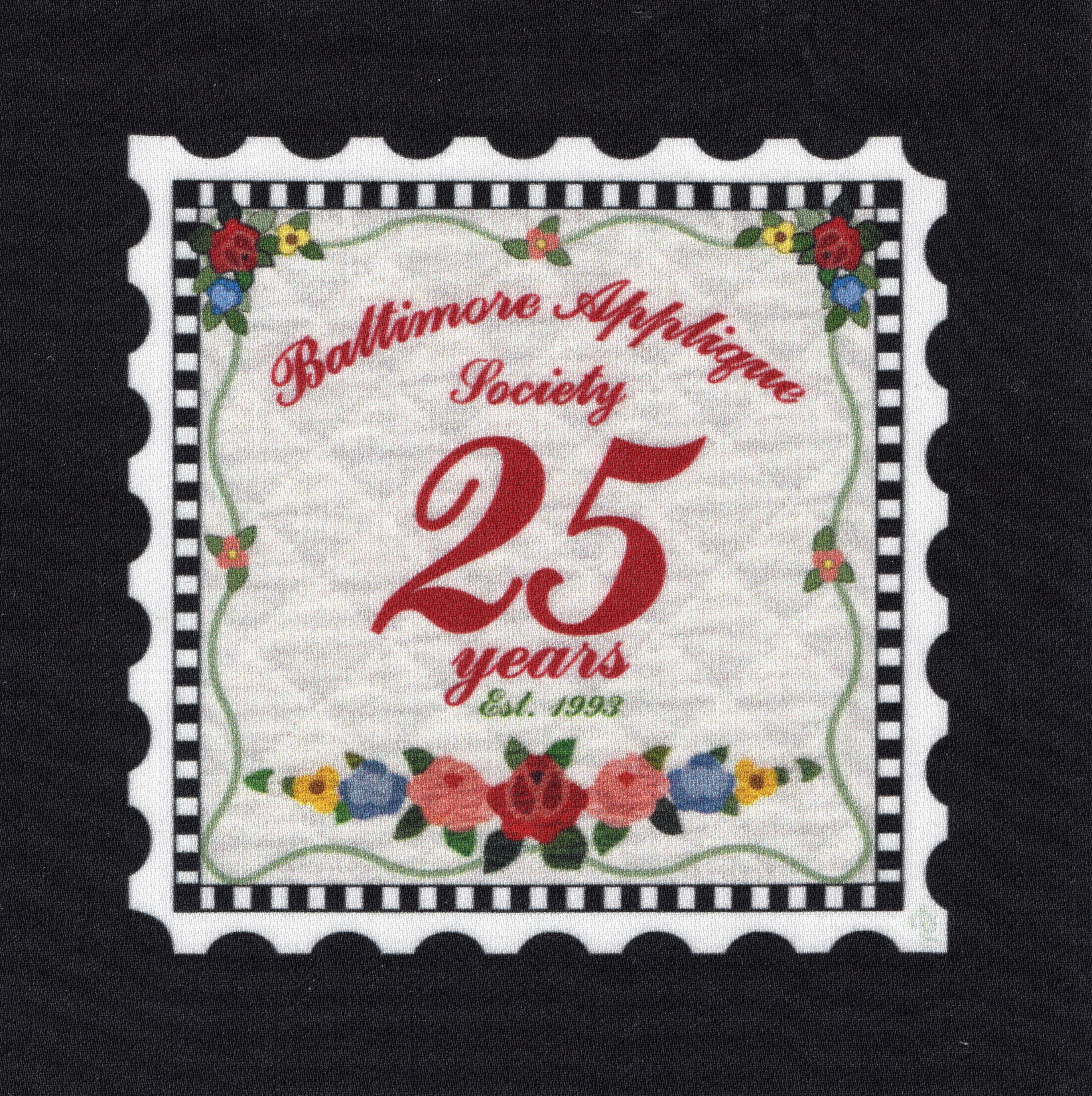 Another Charmer is the 5.5" x 5.5" Custom Charm Stamp designed by Debra Gabel of Zebra Quilts. This is a wonderful block to experiment with. One can add it to a tote bag, pillow, t-shirt, or use it as a label, frame it, or add it to a quilt. The possibilities are endless! Proceeds will go directly to BAS. (The central patterned area is 4" x 4")