Baltimore Appliqué Society
Founded in Baltimore, MD, in 1993 to preserve antique quilts and promote the art of appliqué
Welcome to the BAS Website! The Announcements, Newsletters, Resources and Slideshows are only available to members, but please browse the rest of our site to learn about our group.
Join Us! Don't live in Baltimore, Maryland? Neither do three quarters of our membership! What do they know that you don't? Find out here
Important Announcement
Dear BAS Friends,
Due to the rising cases of Coronavirus disease (COVID-19) we have cancelled the following meetings and workshops —
BAS March 18, 2020 general membership meeting
BAS April 15, 2020 general membership meeting
BAS April 16, 2020 Barbara Burnham's workshop at Spring Water Design – Refunds for registration of her class will be sent out by mail no later than mid-April 2020.
The BAS Society Sampler newsletter will be out by March 23, 2020. This issue will cover the latest general membership meeting on February 19, 2020, and any recent updates.
In the near future there will be an e-mail to our membership with pertinent information regarding the business of the organization.
Refer to this website and social media pages for updates as we move forward.
Please follow the recommendations of your local communities and stay in touch with one another via phone, text, email – we want to know how you are doing.
Sincerely,
Nancy K. Raley, President
Baltimore Appliqué Society

Join us for BAS meetings at:

Baltimore-Washington Conference Mission Center (BWC Mission Center)
11711 East Market Place
Fulton, Maryland 20759
410 309 3400 A map to the meeting site is available under Member Resources. Please login to access it.

Guests are always welcome. The fee for guests is $5.
Baltimore Applique Society 25 Year Anniversary Block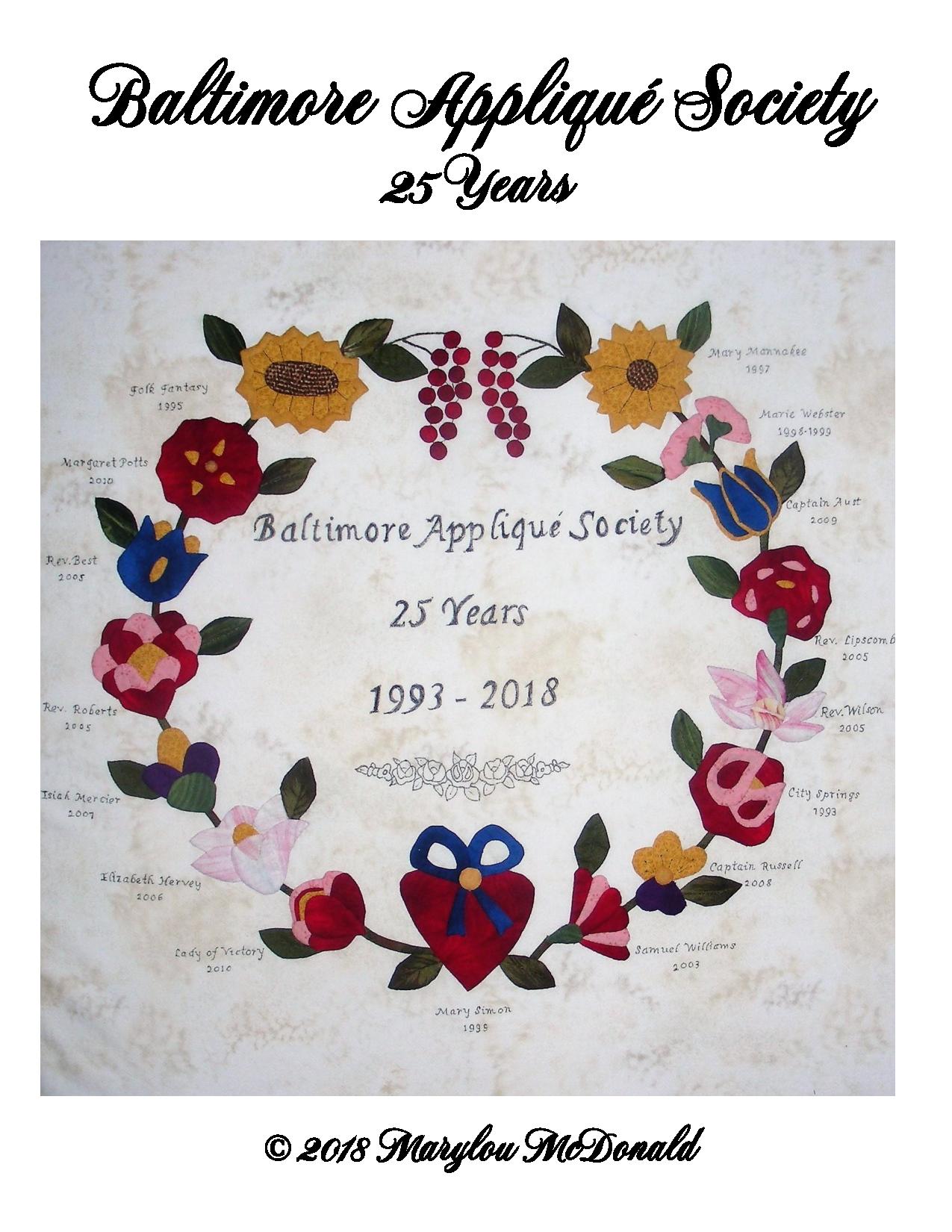 The Baltimore Appliqué Society, established in 1993, is currently celebrating its 25th year. Over the years BAS has raised money in a variety of ways, including making raffle quilts and creating patterns from museum quilts. BAS has provided financial support for organizations including the American Quilt Study Group, the Maryland Historical Society, the Marie Webster House, the Maryland State Fair, the Virginia Quilt Museum, and the Baltimore Museum of Art.
When Marylou McDonald was asked for possible ideas for a Baltimore Appliqué 25-year block pattern, she created this special pattern, "The BAS 25 Year Anniversary Block". The pattern is for a 20" x 20" block, and includes a flower from each quilt which BAS has produced. The 25 berries represent the 25 years of the BAS.
The price for the pattern is $15.00 + $1.50 shipping (MD residents will also be charged $0.90 state sales tax ). Proceeds from the pattern sales will go to the BAS.
Baltimore Applique Society 25 Year Anniversary Charm Stamp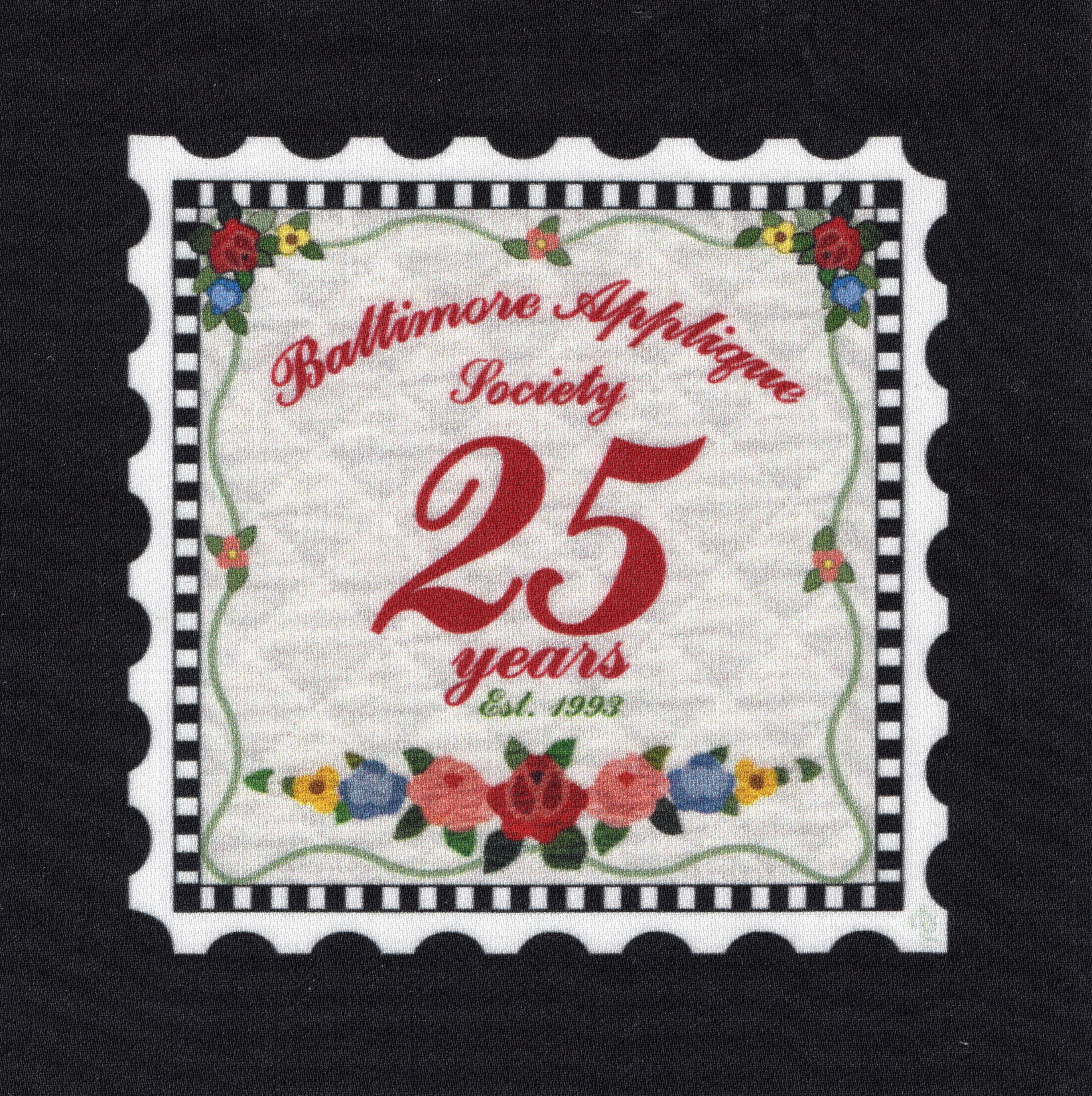 Another Charmer is the 5.5" x 5.5" Custom Charm Stamp designed by Debra Gabel of Zebra Quilts. This is a wonderful block to experiment with. One can add it to a tote bag, pillow, t-shirt, or use it as a label, frame it, or add it to a quilt. The possibilities are endless! Proceeds will go directly to BAS. (The central patterned area is 4" x 4")