Baltimore Appliqué Society
Founded in Baltimore, MD, in 1993 to preserve antique quilts and promote the art of appliqué
Welcome to the BAS Website! The Announcements, Newsletters, Resources and Slideshows are only available to members, but please browse the rest of our site to learn about our group.
Join Us! Don't live in Baltimore, Maryland? Neither do three quarters of our membership! What do they know that you don't? Find out here
Please mark your calendars!
The January meeting will be on the fourth Wednesday, January 22nd, 2020. Both meetings will be at the usual location, the Baltimore-Washington Conference Center (BWC Mission Center) in Fulton, Maryland.
BAS Workshop "Designing Your Broderie Perse Quilt" with Judy Shapiro
Judy Shapiro will be teaching Broderie Perse workshop on Thursday, January 23rd, 2020 10a.m.-4p.m. at Spring Water Designs in Columbia. For more information click here
Next BAS Meeting - December 11, 2019 - Note this is the 2nd Wednesday!
The program for the December meeting will be a BAS Holiday Buffet with Member's Extended Show and Tell Celebration This is a great evening to bring a guest. Just send a note to nancy.k.raley@gmail.com.
We will begin with a short business meeting. BAS will provide sandwiches, punch and dinnerware. All members are invited to bring their favorite dessert or savory for our Sweet and Savory Buffet. Please include a copy of your recipe which we may copy and add as a link on our website over the next few months. ALSO, for our out-of-town members, you are welcome to share your favorite holiday recipes with us by sending an email to nancy.k.raley@gmail.com.
Back by popular demand is the Member's Extended Show and Tell. Each member is encouraged to share a recently completed quilt, blocks, favorite holiday quilt, textile, early quilt— perhaps there's a special story you have to share The quilts you bring this evening do not need to be quilts you personally made, but ones that are dear to you personally. Please mark your calendar, wear your holiday best and come join in some "quilty" holiday cheer.
Sit and Sew: Plan to bring join us prior to our December 11 general meeting in the Strawbridge Room, BWC Mission Center, 5:00 P.M.- 6:45 P.M. We have two fun and quick crafts for you. Kathleen Branch and Kathy Butcher will offer a cute bottle cap pin cushion with small embellishments. Nancy Raley and Linda Bobo will offer a wool applique ornament with embellishments. Bring your usual sewing kit with applique and embroidery needles and small scissors.
Join us for BAS meetings at:

Baltimore-Washington Conference Mission Center (BWC Mission Center)
11711 East Market Place
Fulton, Maryland 20759
410 309 3400 A map to the meeting site is available under Member Resources. Please login to access it.

Guests are always welcome. The fee for guests is $5.
Baltimore Applique Society 25 Year Anniversary Block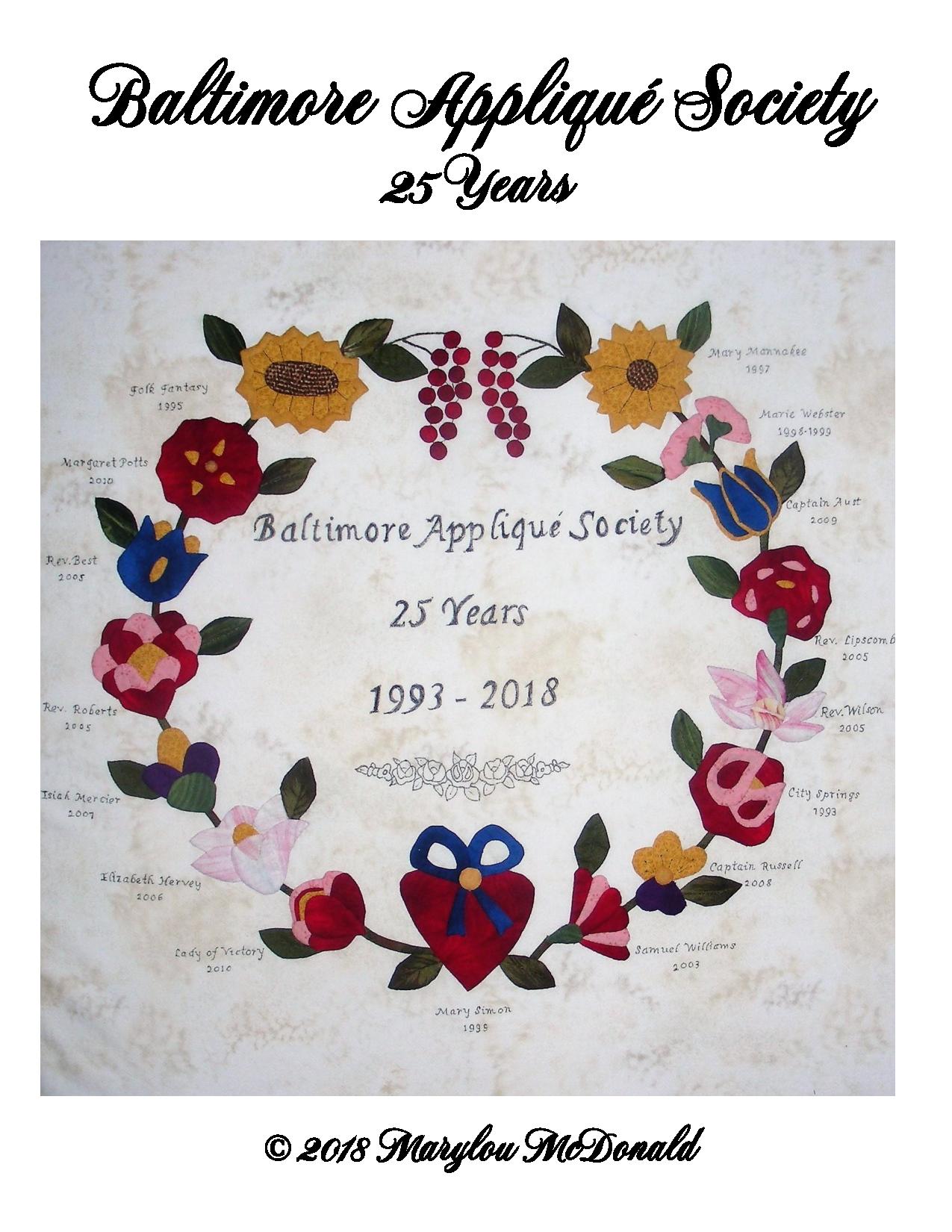 The Baltimore Appliqué Society, established in 1993, is currently celebrating its 25th year. Over the years BAS has raised money in a variety of ways, including making raffle quilts and creating patterns from museum quilts. BAS has provided financial support for organizations including the American Quilt Study Group, the Maryland Historical Society, the Marie Webster House, the Maryland State Fair, the Virginia Quilt Museum, and the Baltimore Museum of Art.
When Marylou McDonald was asked for possible ideas for a Baltimore Appliqué 25-year block pattern, she created this special pattern, "The BAS 25 Year Anniversary Block". The pattern is for a 20" x 20" block, and includes a flower from each quilt which BAS has produced. The 25 berries represent the 25 years of the BAS.
The price for the pattern is $15.00 + $1.50 shipping (MD residents will also be charged $0.90 state sales tax ). Proceeds from the pattern sales will go to the BAS.
Baltimore Applique Society 25 Year Anniversary Charm Stamp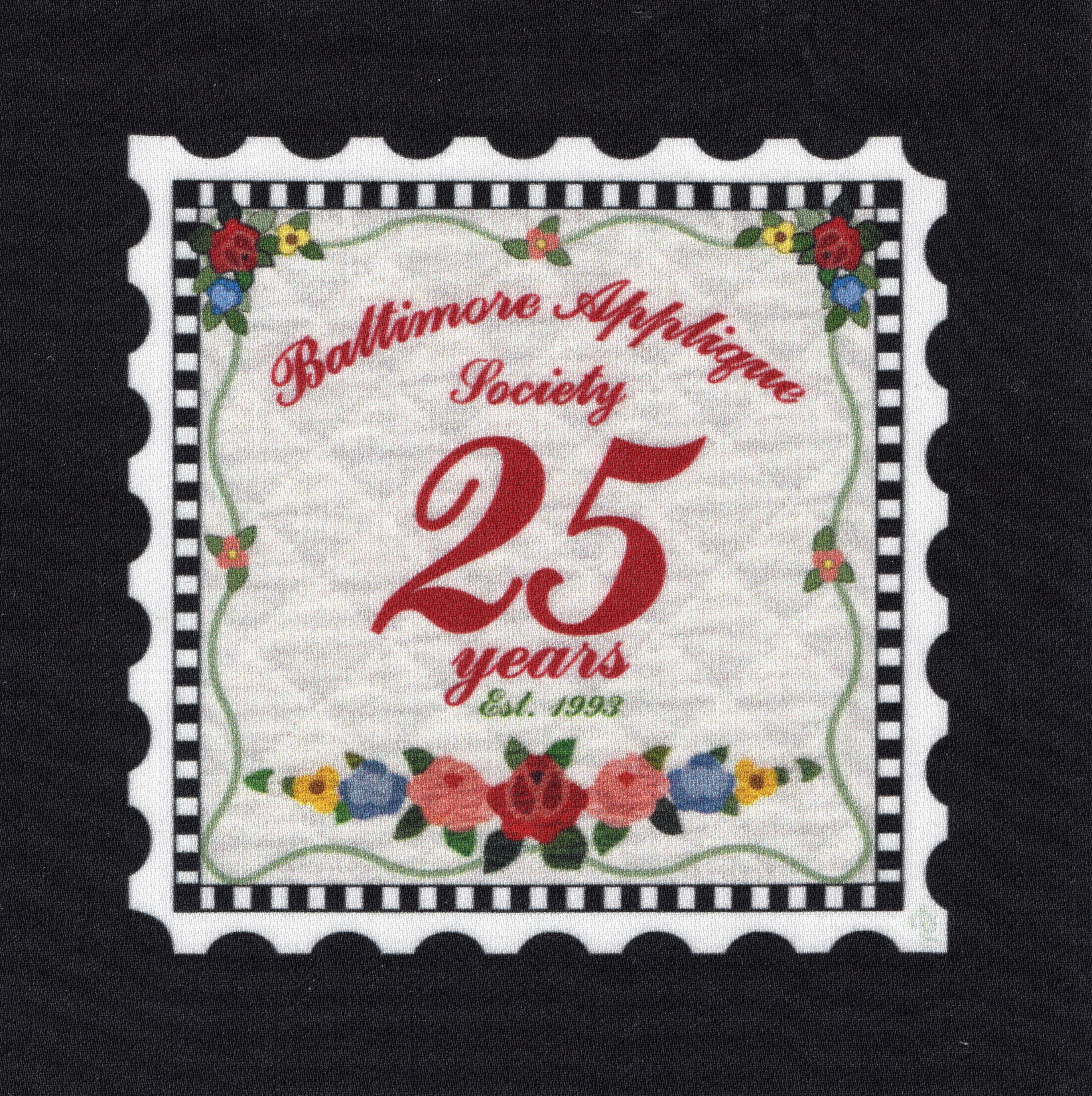 Another Charmer is the 5.5" x 5.5" Custom Charm Stamp designed by Debra Gabel of Zebra Quilts. This is a wonderful block to experiment with. One can add it to a tote bag, pillow, t-shirt, or use it as a label, frame it, or add it to a quilt. The possibilities are endless! Proceeds will go directly to BAS. (The central patterned area is 4" x 4")