Baltimore Appliqué Society
Founded in Baltimore, MD, in 1993 to preserve antique quilts and promote the art of appliqué
Welcome to the BAS Website! The Announcements, Newsletters, Resources and Slideshows are only available to members, but please browse the rest of our site to learn about our group.
Join Us! Don't live in Baltimore, Maryland? Neither do three quarters of our membership! What do they know that you don't? Find out here
Next BAS Meeting - February 19, 2020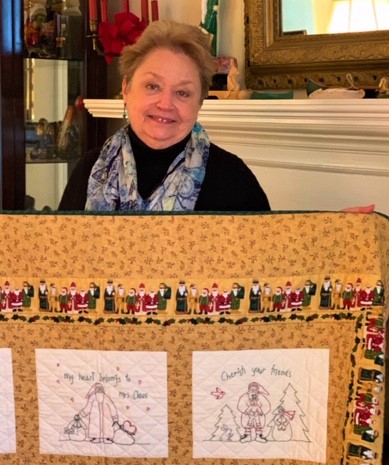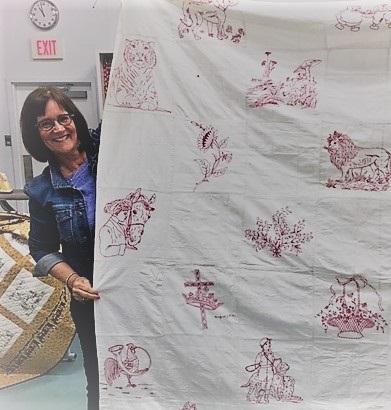 Our BAS Program for February 19, 2020, will be presented by two ladies of many talents, Kay Thompson (left) and Sherry Cowley (right). Be prepared to see the wonderful collections these two quilters and collectors will share with us. They will speak on The History of Redwork and its Role in Quilting.
Our very own Kay Thompson started quilting forty years ago when she was inspired by her maternal grandmother's quilts, which she inherited. Kay likes to use a broad range of techniques to bring her story pictures to life. She will share the roles of Redwork in textile history and how it is used today to embellish and enhance both traditional and modern quilts.
Sherry Cowley came from a family of needleworkers. At a very early age she began to embroider, and at age 12 her mom taught her to sew, crochet and cross stitch. When her daughter was born in 1980, she taught herself how to smock. Finally, in the early 90's, she learned to quilt. When she moved to St. Louis in 1998, she discovered Redwork and began buying pieces while visiting antique malls and quilt shows in the Midwest. Thus, this was when her journey began. Sherry will talk about her remarkable collection of antique Redwork and the where, how, and why of collecting and preserving these treasures.
We will be in for a treat to see both of these wonderful collections of Redwork!
Join us for BAS meetings at:

Baltimore-Washington Conference Mission Center (BWC Mission Center)
11711 East Market Place
Fulton, Maryland 20759
410 309 3400 A map to the meeting site is available under Member Resources. Please login to access it.

Guests are always welcome. The fee for guests is $5.
Baltimore Applique Society 25 Year Anniversary Block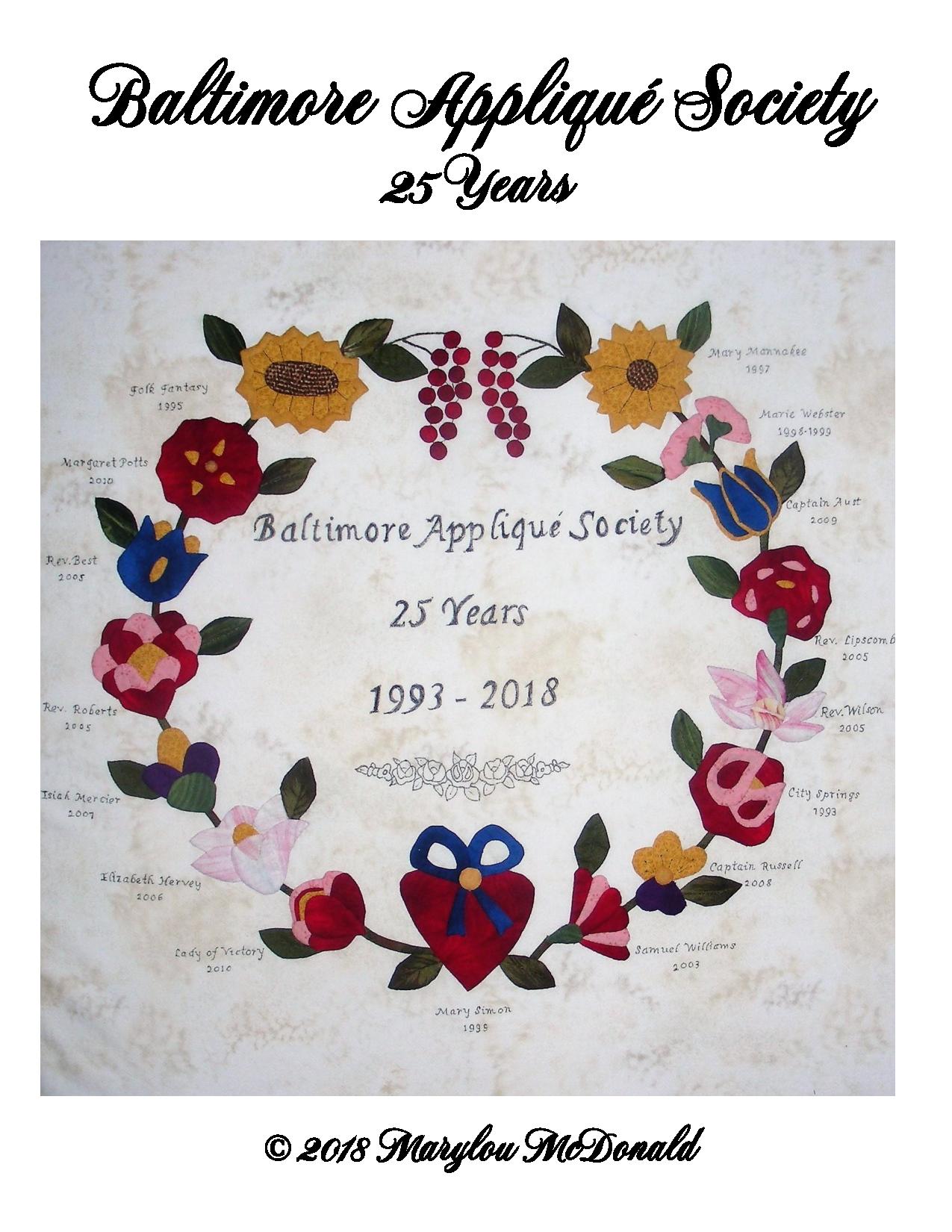 The Baltimore Appliqué Society, established in 1993, is currently celebrating its 25th year. Over the years BAS has raised money in a variety of ways, including making raffle quilts and creating patterns from museum quilts. BAS has provided financial support for organizations including the American Quilt Study Group, the Maryland Historical Society, the Marie Webster House, the Maryland State Fair, the Virginia Quilt Museum, and the Baltimore Museum of Art.
When Marylou McDonald was asked for possible ideas for a Baltimore Appliqué 25-year block pattern, she created this special pattern, "The BAS 25 Year Anniversary Block". The pattern is for a 20" x 20" block, and includes a flower from each quilt which BAS has produced. The 25 berries represent the 25 years of the BAS.
The price for the pattern is $15.00 + $1.50 shipping (MD residents will also be charged $0.90 state sales tax ). Proceeds from the pattern sales will go to the BAS.
Baltimore Applique Society 25 Year Anniversary Charm Stamp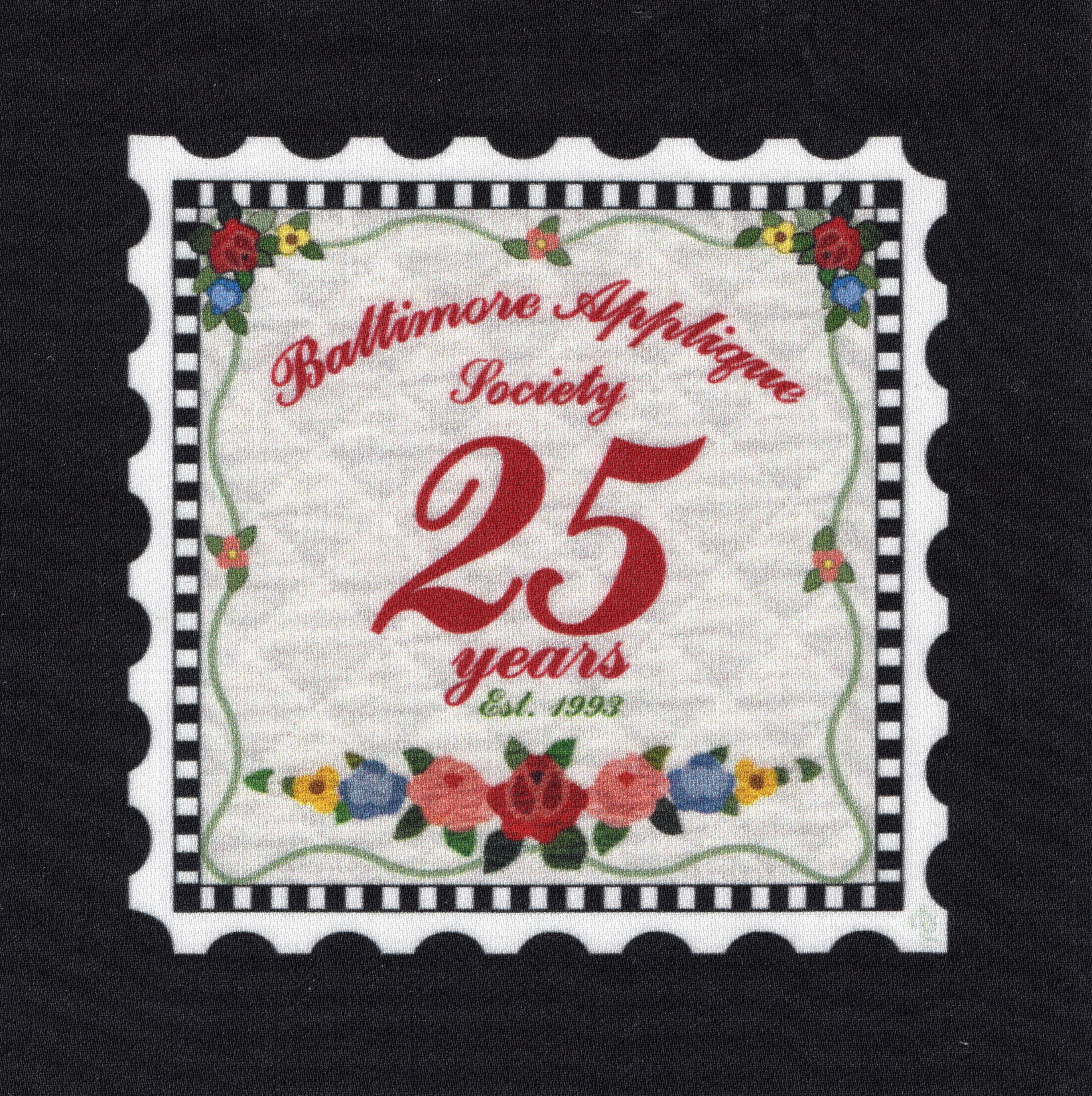 Another Charmer is the 5.5" x 5.5" Custom Charm Stamp designed by Debra Gabel of Zebra Quilts. This is a wonderful block to experiment with. One can add it to a tote bag, pillow, t-shirt, or use it as a label, frame it, or add it to a quilt. The possibilities are endless! Proceeds will go directly to BAS. (The central patterned area is 4" x 4")