Baltimore Appliqué Society
Founded in Baltimore, MD, in 1993 to preserve antique quilts and promote the art of appliqué
Welcome to the BAS Website! The Announcements, Newsletters, Resources and Slideshows are only available to members, but please browse the rest of our site to learn about our group.
Join Us! Don't live in Baltimore, Maryland? Neither do three quarters of our membership! What do they know that you don't? Find out here
---
BAS Meeting - November 2, 2022 - In Person and Zoom Meeting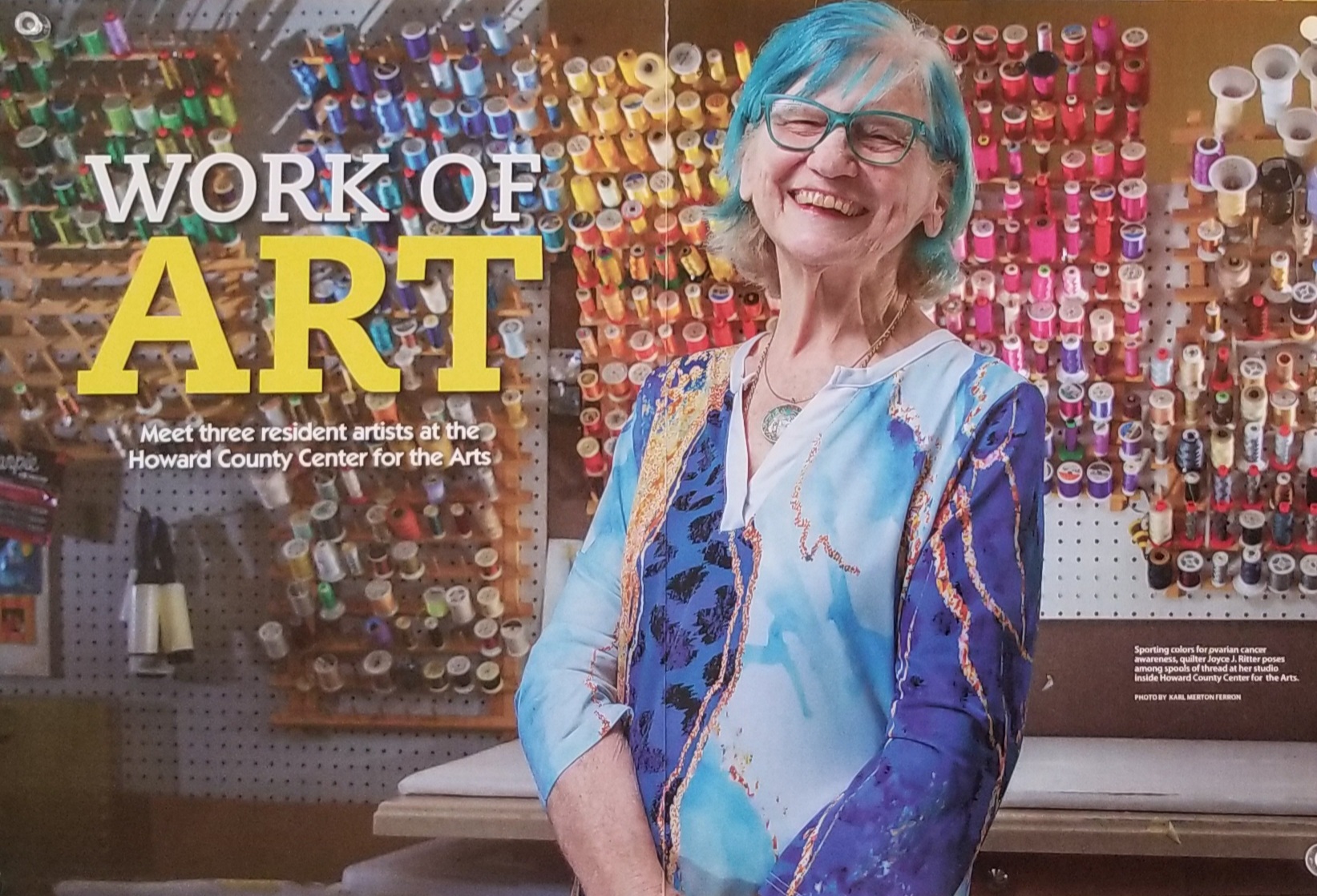 BAS will be meeting on November 2, 2022 In Person and also via Zoom. Our speaker for November is Joyce Ritter, a quilt artist who maintains a studio in the Arts Center where we meet. Joyce's program is entitled, "I Can't Believe It's Not a Painting! Realism in Quilting." The granddaughter of a Lithuanian tailor, Joyce was taught to sew by her aunts, and by the age of seven she was bossing them around as to how her outfits should be tailored. In 2014, Joyce was awarded a studio as resident artist in the Howard County Center for the Arts. Exposure to the wonderful painters there led her to explore working with realism in her quilts. She has exhibited in local galleries in Columbia, Frederick and Annapolis, MD. One of her quilts, "BaltiMORE Jobs, Justice, HOPE" was hung in the Baltimore Mayor's office after the 2015 riots. In 2016, "Precarious" was selected for a 5-year installation at BWI Airport, and this year she was asked to make it a permanent part of their collection. Joyce considers herself the luckiest woman in the world. She goes to her studio six days a week and makes only the things she wants to make. Complete artistic freedom. She keeps working for three reasons: 1) she wants people to see quilts as art, 2) it keeps her off the streets and out of trouble, and 3) if she's not sewing, she's not happy. Joyce's work is not traditional hand appliqué, but I think you'll agree her work is beautiful.


We send our wishes for a complete and speedy recovery to Marylou McDonald who is recuperating from an injury last month while in Amsterdam. We look forward to having Marylou present her program in the spring.

Elections: At the November 2 general meeting, BAS will hold its annual election of officers for the four executive Board positions. Our nominees for office are: Joyce Korvick, President; Gerda Sherwood, Vice President; Carol Brown, Secretary; and Katherine Degergerg, Treasure
Dinner Before the General Meeting, November 2nd, 5-6:15 p.m.

This is a wonderful opportunity to meet our speaker and join other members for a light dinner prior to the General Meeting. ALL members are welcomed at Kelsey's Pub, 8480 Baltimore National Pike, Ellicott City, MD, 20143. Kelsey's menu is available at Kelsey's Menu — Kelsey's Restaurant, Irish Pub, & Banquet Hall (kelseysrestaurant.com). If you wish to attend, please call, text, or email Ann Corbett at 410-804-6228, or ann.corbett@gmail.com so we can add your name to the BAS reservation.
Join us for BAS meetings at:

Howard County Center for the Arts
8510 High Ridge Road
Ellicott City, Maryland 21043


Guests are always welcome. The fee for guests is $5. For those attending via Zoom, an email with the Zoom link will be sent out on Sunday, October 30, and again the day of the meeting.
---
Quaker Baltimore Album, Date 1850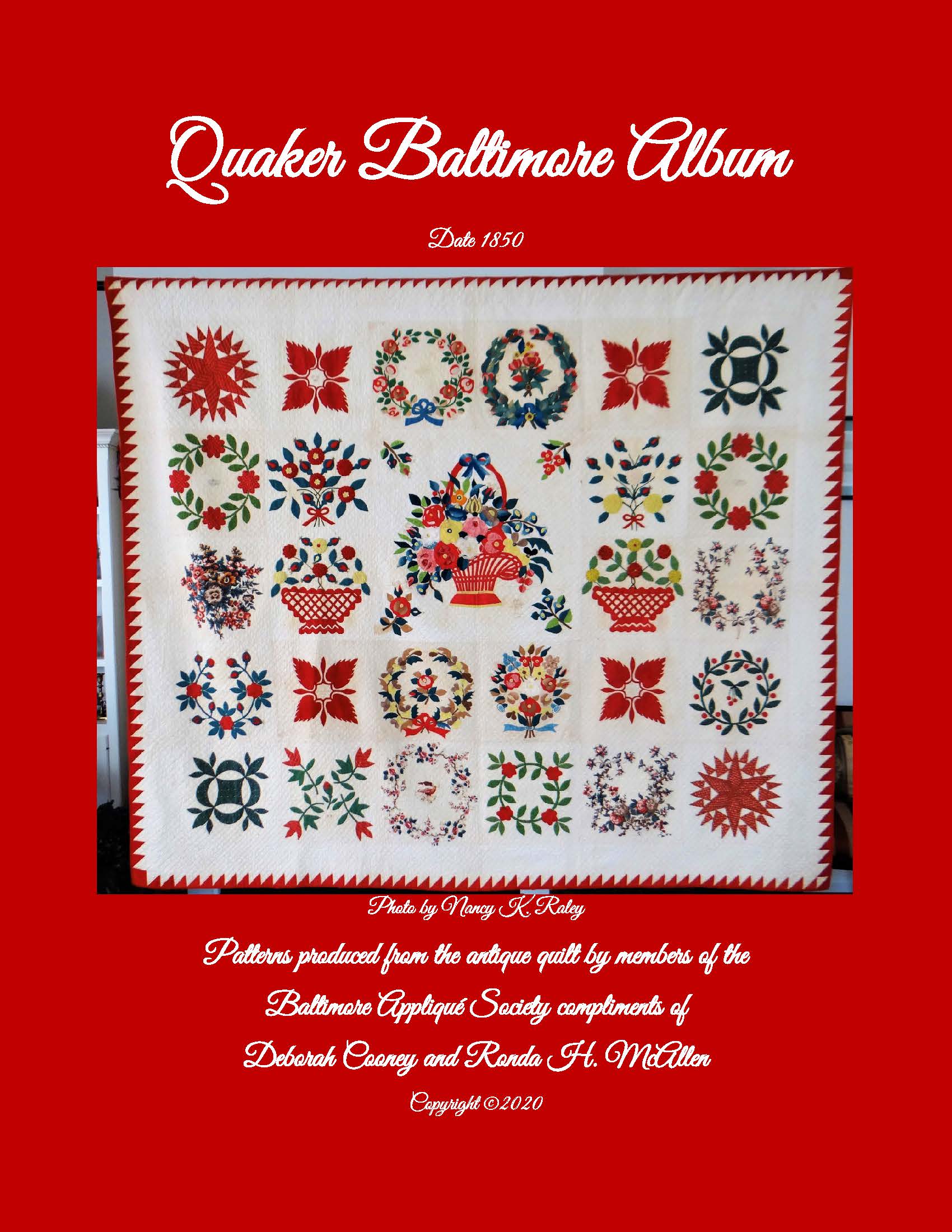 The pattern from this antique quilt was produced by members of the Baltimore Appliqué Society, compliments of Debby Cooney and Ronda H. McAllen whose research reflects that there were Quakers, who lived in Maryland and the Baltimore area from the late 17th century. Many Quaker women were dedicated quiltmakers, using silks in the somber hues of their dresses as well as colorful glazed chintz furnishing fabrics. This Baltimore Album quilt reflects names that show the Quakers participated in making some of the over 400 quilts completed between about 1844 and 1858 that are known today. The high-style blocks, ruched roses in baskets and bouquets, chintz appliqué, plus simple appliqués and piecework, are all nicely balanced to create a handsome gift or memento of friendship or kinship ties.
Quilt size 88" x 75". Legible Names on the Quaker Baltimore Album quilt are Hannah S. Atkinson, Elizabeth Herica, Louisa Morgan, Thomas Morgan, Sarah Ann Atkinson, and initials CC or GG dated 1850.
The price for the pattern is $50.00 + $12.00 shipping (MD residents will also be charged 6% state sales tax). Proceeds from the pattern sales will go to the BAS.
Baltimore Applique Society 25 Year Anniversary Block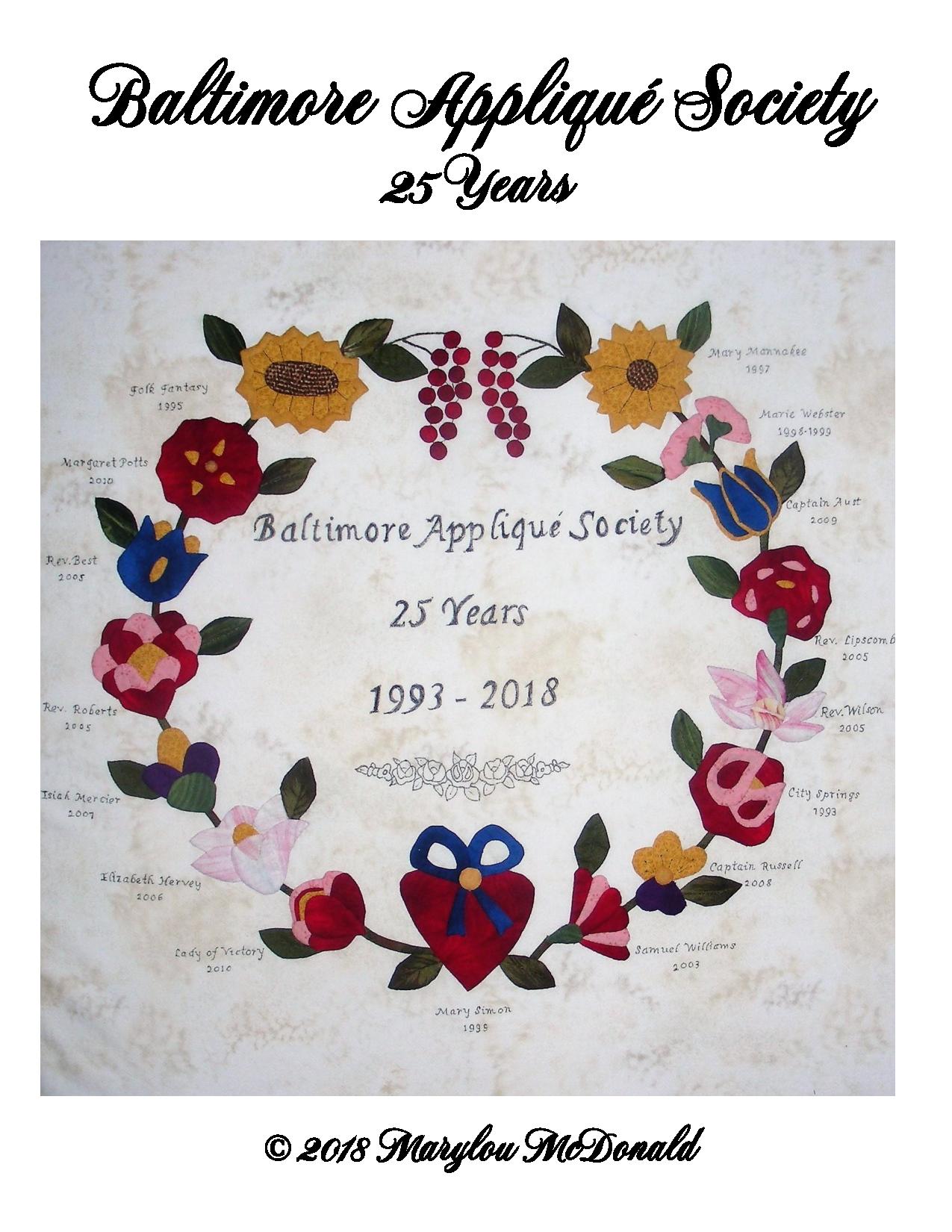 The Baltimore Appliqué Society, established in 1993, is currently celebrating its 25th year. Over the years BAS has raised money in a variety of ways, including making raffle quilts and creating patterns from museum quilts. BAS has provided financial support for organizations including the American Quilt Study Group, the Maryland Historical Society, the Marie Webster House, the Maryland State Fair, the Virginia Quilt Museum, and the Baltimore Museum of Art.
When Marylou McDonald was asked for possible ideas for a Baltimore Appliqué 25-year block pattern, she created this special pattern, "The BAS 25 Year Anniversary Block". The pattern is for a 20" x 20" block, and includes a flower from each quilt which BAS has produced. The 25 berries represent the 25 years of the BAS.
The price for the pattern is $15.00 + $1.56 shipping (MD residents will also be charged $0.90 state sales tax ). Proceeds from the pattern sales will go to the BAS.
Baltimore Applique Society 25 Year Anniversary Charm Stamp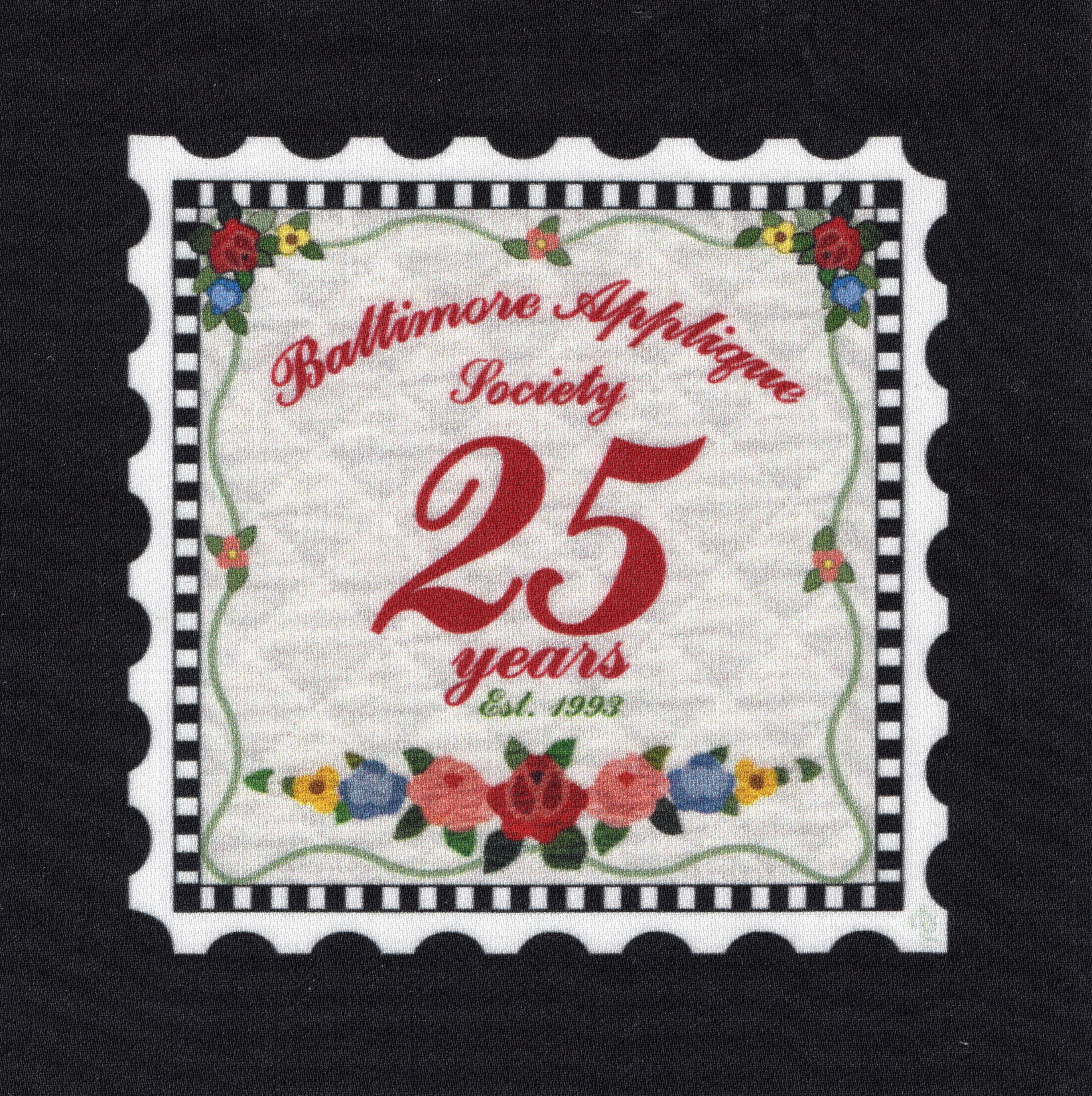 Another Charmer is the 5.5" x 5.5" Custom Charm Stamp designed by Debra Gabel of Zebra Quilts. This is a wonderful block to experiment with. One can add it to a tote bag, pillow, t-shirt, or use it as a label, frame it, or add it to a quilt. The possibilities are endless! Proceeds will go directly to BAS. (The central patterned area is 4" x 4")
The price for the charm is $6.00 + $0.60 shipping (MD residents will be charged $0.36 state sales tax).