Baltimore Appliqué Society
Founded in Baltimore, MD, in 1993 to preserve antique quilts and promote the art of appliqué
Welcome to the BAS Website! The Announcements, Newsletters, Resources and Slideshows are only available to members, but please browse the rest of our site to learn about our group.
Join Us! Don't live in Baltimore, Maryland? Neither do three quarters of our membership! What do they know that you don't? Find out here
Fieldtrip to the DAR Museum on November 4th, 2019
Join BAS to visit the DAR Special Exhibition: A Piece of Her Mind: Culture and Technology in American Quilts. Click here for the registration form.
Next BAS Meeting - October 16, 2019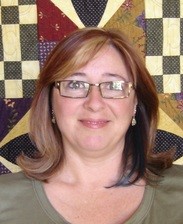 Join us at our October general meeting when speaker, Robin Koehler, will present a lecture and trunk show: "An Evening with Well-Loved Ladies: Red & Green Traditions." Come meet these Centenarian Sweethearts and hear the story of their invention. Robin has always loved the red and green appliqué quilts of the mid-1800s. As she officially began her path to becoming a certified appraiser, her studies brought her closer to the quilts she adores. The designer in her was fascinated by this era of creating their own designs, too. She has assembled a collection of quilts that are not necessarily in the greatest shape but still so beautiful in their history and imperfections.
Robin Koehler is a quilt designer, writer, and teacher. She has had multiple quilts juried into AQS Paducah and Mancuso Mid-Atlantic shows. NESTLINGS by Robin, is her design business where she devises new ways to combine appliqué ideas with piecing to create her Whimsical-Traditional style. There isn't a technique she doesn't like. She loves to design and bring new, original, fun and easy patterns to quilters of all skill levels. Her 60+ patterns can be found in quilt shops across the county and on her website: nestlingsbyrobin.com
Robin also offers services including hand-quilting. Handwork is one of her passions, whether it be needle-turn appliqué, embroidery, English Paper Piecing, or Hand Quilting. Yes, the process is slower, but the feeling of pride and accomplishment is wonderful. There is such a meditative quality to feeling the fabric between your fingers and the repetitive stitch rhythm.
Dinner Before the General Meeting, October 16th, 5-6:15 p.m. Come meet our speaker and other members for a delicious dinner prior to our General Meeting. ALL members are welcome at the nearby Ranazul Bistro, 8171 Maple Lawn Blvd., Fulton, MD 20759. If you wish to attend, please email Marty Fry at MarthaAFry@gmail.com
Sit and Sew
October's Sit and Sew starts at 5:30 pm, before our general meeting. We will use a sewing machine to construct a crazy quilt foundation-pieced block from Dupioni silk for Cindy Oravecz's November 21 workshop. If we have our blocks made ahead of time, we'll be able to spend more time during the workshop learning the crazy quilt seam finishes. Kits containing Dupioni silk and the foundation pattern will be provided for those registered for the workshop.
If you're registered for the workshop but not able to attend the Sit and Sew, contact Ann Corbett for a block kit: ann.corbett@gmail.com or 410-804-6228.
Join us for BAS meetings at:

Baltimore-Washington Conference Mission Center (BWC Mission Center)
11711 East Market Place
Fulton, Maryland 20759
410 309 3400 A map to the meeting site is available under Member Resources. Please login to access it.

Guests are always welcome. The fee for guests is $5.
Baltimore Applique Society 25 Year Anniversary Block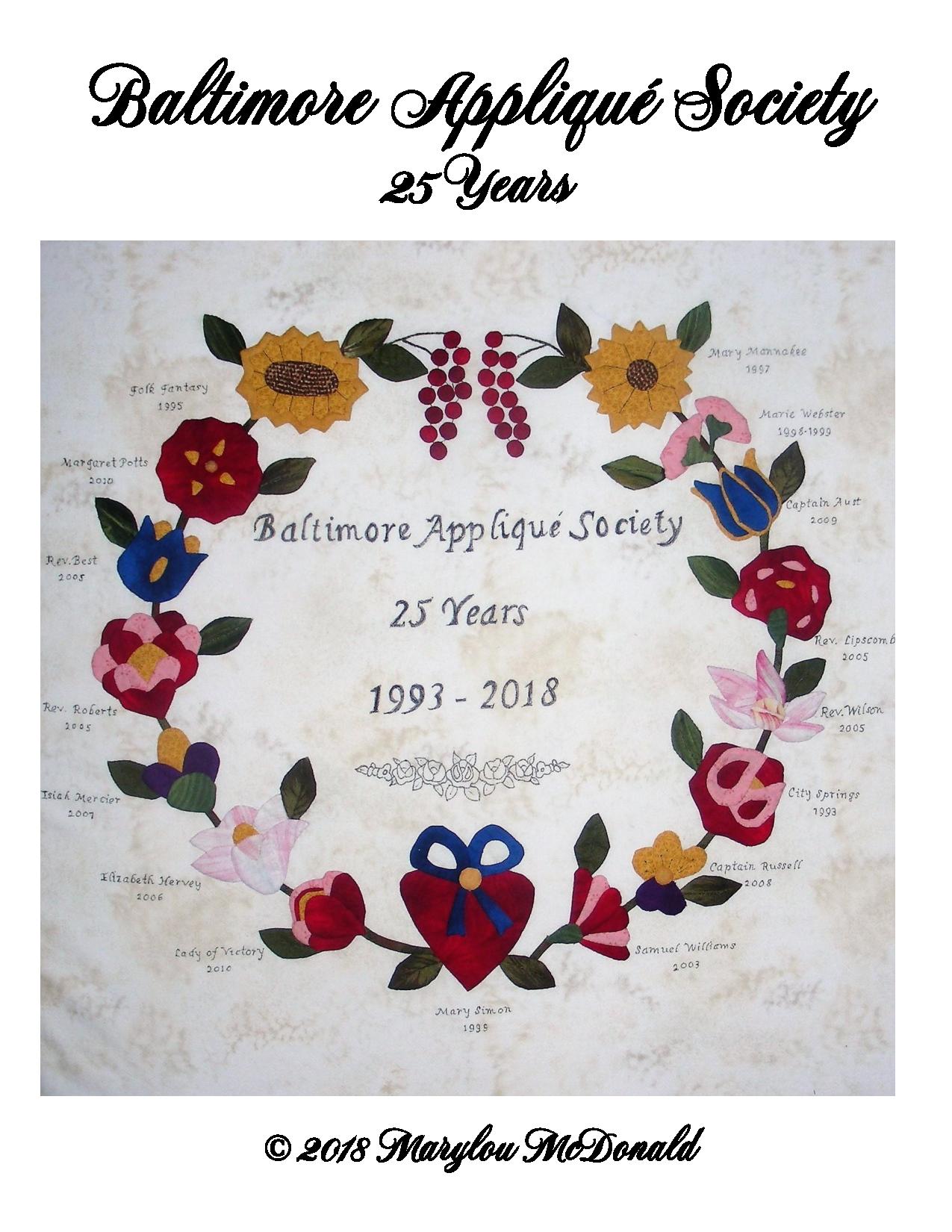 The Baltimore Appliqué Society, established in 1993, is currently celebrating its 25th year. Over the years BAS has raised money in a variety of ways, including making raffle quilts and creating patterns from museum quilts. BAS has provided financial support for organizations including the American Quilt Study Group, the Maryland Historical Society, the Marie Webster House, the Maryland State Fair, the Virginia Quilt Museum, and the Baltimore Museum of Art.
When Marylou McDonald was asked for possible ideas for a Baltimore Appliqué 25-year block pattern, she created this special pattern, "The BAS 25 Year Anniversary Block". The pattern is for a 20" x 20" block, and includes a flower from each quilt which BAS has produced. The 25 berries represent the 25 years of the BAS.
The price for the pattern is $15.00 + $1.50 shipping (MD residents will also be charged $0.90 state sales tax ). Proceeds from the pattern sales will go to the BAS.
Baltimore Applique Society 25 Year Anniversary Charm Stamp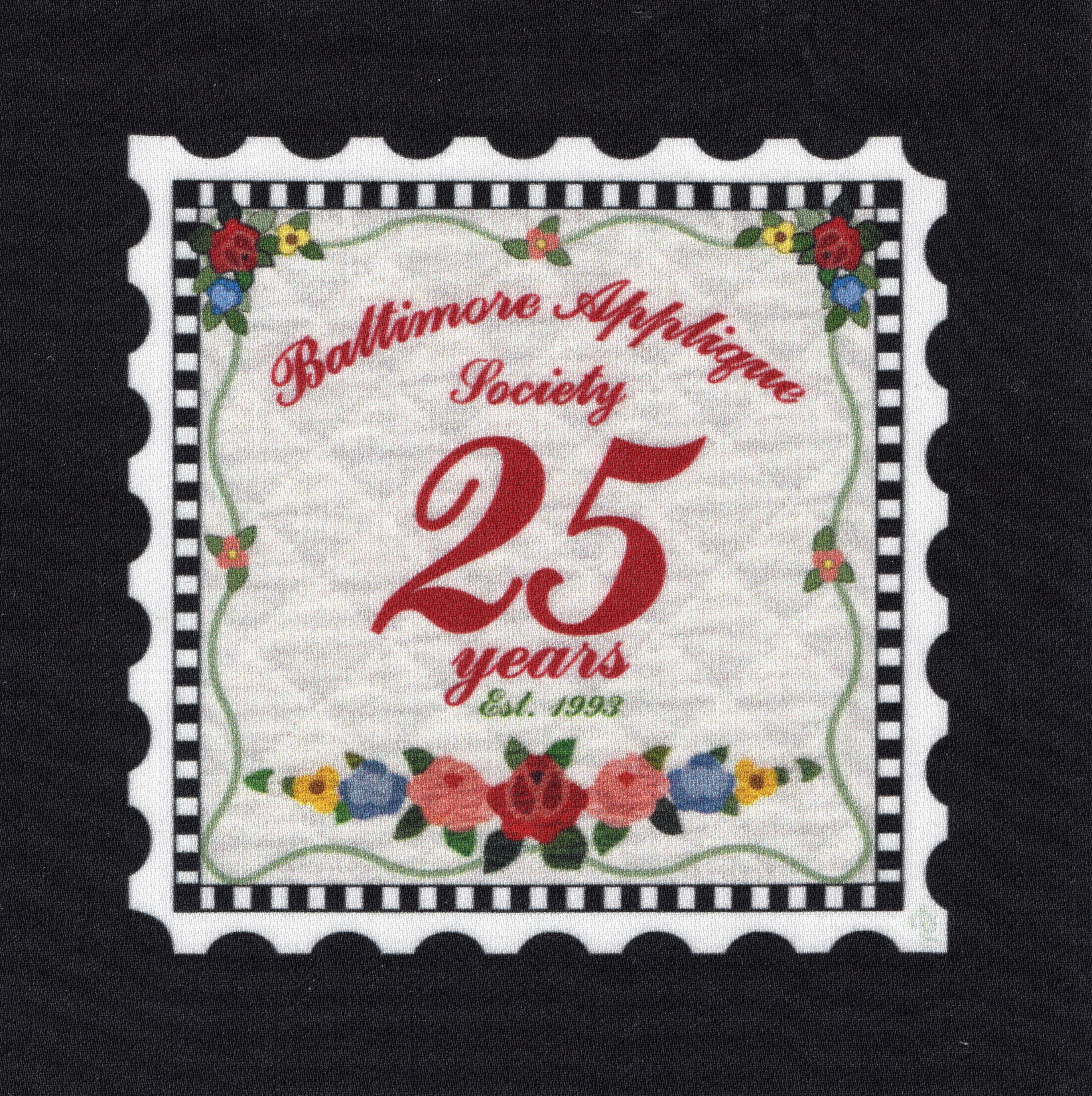 Another Charmer is the 5.5" x 5.5" Custom Charm Stamp designed by Debra Gabel of Zebra Quilts. This is a wonderful block to experiment with. One can add it to a tote bag, pillow, t-shirt, or use it as a label, frame it, or add it to a quilt. The possibilities are endless! Proceeds will go directly to BAS. (The central patterned area is 4" x 4")