Baltimore Appliqué Society
Founded in Baltimore, MD, in 1993 to preserve antique quilts and promote the art of appliqué
Welcome to the BAS Website! The Announcements, Newsletters, Resources and Slideshows are only available to members, but please browse the rest of our site to learn about our group.
Join Us! Don't live in Baltimore, Maryland? Neither do three quarters of our membership! What do they know that you don't? Find out here
Bits of Baltimore and Beyond - the auction has started!
Thank you to everyone who made quilts for Bits of Baltimore and Beyond! You can now view all the beautiful quilts and bid on them starting on October 3rd here. Bid early and bid often!
Next BAS Meeting - October 24, 2018, 7pm - NOTE this is the 4th Wednesday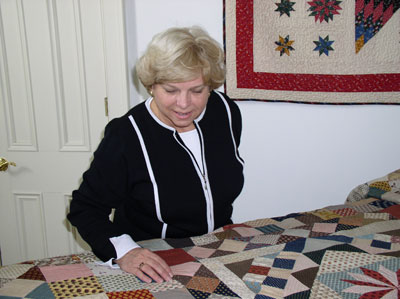 BAS is excited to offer a warm welcome to Mary Koval, one of the leading experts in the field of American quilts and antique fabric at our upcoming Wednesday, October 24th General Meeting. Mary and her husband, Joe, have lived in Pennsylvania for the past 38 years where she has studied American antique quilts and fabric. Early exposure to such quilts nurtured her ability to analyze antique quilts from the standpoint of originality and form. Her years of handling 18th and 19th century fabric expanded her expertise in the field of American quilts.
Mary is always on the move - she lectures on many quilt and textile related topics, exhibits in major antique and quilt shows, as well as assembles quilt exhibits for museums and other venues all over the world. Mary says she likes to look at fabric like someone who looks at a counter of chocolates and assesses the choices. She savors the treasured piece as it comes to "life." Her own collection of textiles date from the early 1700's through late 1900's. She also is a fabric designer and "Baltimore Album" has been one of her primary collections with Windham Fabrics. She has been instrumental in the formation of private collections and continue to handles many exceptional quilts.
Join us for BAS meetings at:

United Methodist Conference Center
11711 East Market Place
Fulton, Maryland 20759
410 309 3400 A map to the meeting site is available under Member Resources. Please login to access it.

Guests are always welcome. The fee for guests is $5.
BAS Pattern Sale
We're having a 50% off sale on the Margaret Potts and Lady of Victory pattern sets. All of the patterns were directly copied from antique quilts.
Click here to get more information, see more pictures of the blocks and order patterns. BAS accepts PayPal!
Margaret Potts
Now $25
Lady of Victory Quilt
Now $25